Bike skills area now open!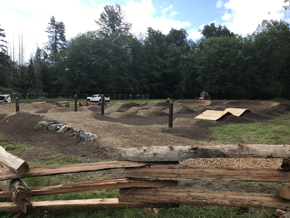 Are you ready for it? The bike pump track in McMinn Park is now open! Please keep to the set path as we want the grass to grow to hold the bank together.
Bikes only in the track area or formal park pathways - no off path bike use in the nearby natural areas as this is causing damage.
Project Updates
Saanich Parks and the community finalized a Concept Plan for McMinn Park in 2017. It is being built in two phases:
Phase 1, consisting of a new playground, sport court, pickle ball court, pathways, furniture and tree planting is complete. We've also installed an 'Around the Nine' Disk Golf course.
Phase 2, consisting of a small bike skills area and a small public washroom building.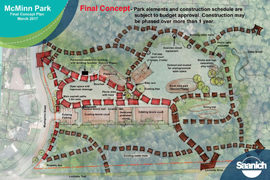 The new washroom building will be close to the playground just to the north with installation set for late 2021.
Contact Saanich Parks at parks@saanich.ca or 250-475-5522 for more information.
Disc golf basket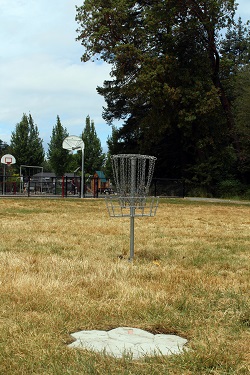 Saanich Parks is partnering with Recreation and have installed one disc golf basket located in the main field area. You can play the game 'Around the Nine'. Nine numbered concrete pads are installed at increasingly difficult distances from the basket in a circular pattern. Play alone or with a group of friends!