Cedar Hill Park Management Plan
Our sincere thanks to all the community members who participated in this project. Your thoughts and diverse perspectives help shaped the plan and allows for us to move forward with a number of goals and actions over the next two decades. Please view the final Cedar Hill Park management plan [PDF - 20 MB] and associated appendices [PDF - 50 MB].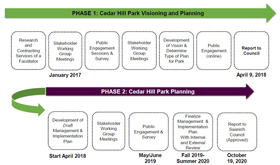 Summary of Events
Cedar Hill Park Management Plan Update – May 2021
We're pleased to announce that work has begun on Goal #3 of the Cedar Hill Park Management Plan – 'Providing a clear plan for the protection and enhancement for the natural areas in the park'.
Saanich Parks is hiring a contractor to prepare an inventory of the vegetation coverage for 12 of the 15 Natural Area Zones zZones 1-5, 7-9 and 11-14) and then will provide restoration recommendations for each. We will capture zones 6, 10 and 15 when assessments and planning are in progress for both Kings Pond and Reach 17 (in the future).
The plan is to have the contractor meet with Saanich Pulling Together Lead Stewards (Cedar Hill Park) to review the areas outside the active golf course zone and to meet golf course staff to review areas within the active golf course zone.
If you have any questions please don't hesitate to contact us for further information.
Management Plan Approval - October 2020
The plan was presented to the Parks Recreation and Trails Committee on October 1, 2020, and then presented to, and approved by Saanich Council on October 19, 2020.
Draft Management Plan - February 2020
The DRAFT Cedar Hill Park Management Plan was open for comment from February 10/20 to March 12/20. We received 18 comments regarding the DRAFT plan and made revisions based on these comments as well as a conversation with our Stakeholder Working Group.
Open House - May 4, 2019
We hosted an open house Saturday, May 4, 2019 at the Cedar Hill Recreation Centre and close to 250 people attended. You can review the boards presented at the open house: Information boards from May 4, 2019 open house. [PDF - 9 MB].
Since the open house, close to 900 individuals completed our survey which was open from May 4 to June 23, 2019. We are currently summarizing the data but if you'd like you can view the responses received [PDF - 418 KB] (please note: this survey was redacted by our Privacy Office under s. 22 of the Freedom of Information and Protection of Privacy Act).
Vision Statement Presentation - April 9, 2018
On April 9, 2018, we presented the proposal to proceed with a Management Plan to Committee of the Whole the Vision Statement. You can view the staff report or minutes from that meeting or visit our website and select the 2018 available archives and scroll to the April 9, 2018 date for full agenda that day.
VISION STATEMENT – CEDAR HILL PARK
Cedar Hill Park balances nature, community, and recreation in a harmonious way. People, place, and the environment share an intimate connection that fosters mutual health and well-being. We are all stewards of the park, committed to its long-term preservation and enhancement.
Please note that this planning exercise acknowledges that the operations of the Cedar Hill Golf Course and the Recreation Center are not part of the project scope and that they will continue to operate in the park in the foreseeable future.
Stakeholder Workshop - October 10, 2017
We held a workshop with groups affiliated with the park to discuss the emerging themes. Some great ideas emerged [PDF - 34 KB].
Workshop with Youth - June 12, 2017
Two classes of students from Cedar Hill Middle School gave us insights as to what ideas they have for Cedar Hill Park. Check out the summary of their ideas [PDF - 231 KB]!
Ideas Fair - June 8, 2017
On June 8, 2017 an Ideas Fair was attended by a total of 119 people, two classes of students from Cedar Hill Middle School were consulted about the project, plus an online survey was open to all from June 8 to August 9 which was completed by 605 respondents. Check out some background details:
You can review a short summary [PDF - 544 KB] of the most common/popular comments from our survey and view ideas made by youth at Cedar Hill Middle School.
You can also view all comments from our survey [PDF - 1013 KB] (total 176 pages).
Please note: Public use of the Cedar Hill Golf Course and Recreation Centre will continue to operate as it currently does.
Background
Cedar Hill Park is one of Saanich's largest parks and is home to the Cedar Hill Golf Course, Cedar Hill Recreation Centre, McRae House, the well-used chip trail as well as two baseball diamonds, Kings Pond and numerous natural areas. Currently Saanich Parks is undergoing a visioning and planning project for the park. The operations of both the Golf Course and Recreation Centre will not be included in the scope of the project. The project scope will focus natural areas and open land located throughout the park, the chip trail, Kings Pond, a tributary of Bowker Creek, and the Queensbury and Finlayson parking lots.
Cedar Hill is a 53.4-hectare municipal park in the Quadra Cedar Hill neighbourhood. Originally, the area used by many generations of the Lekwungen (Songhees, Esquimalt, and Saanich) First Nations. A number of landowners and leaseholders managed the property prior to Saanich obtaining the land for Parks and Recreation purposes in 1967. Kings Pond, located in the north end of the park was one of the original ponds in the area and continues to be a popular feature in the park. Initially, the Golf Couse by developed by a golf pro who leased the land from the McRae family. The Golf Course was run as a private enterprise from 1921 to 1967 (1921-1952 as a 9-Hole course/ 1952 - 1967 as an 18-hole course).
Cedar Hill Park Stakeholder Working Group
To ensure that the project reflects the community's values, Saanich Parks has formed a Stakeholder Working Group. The group is comprised of staff, representatives from three local Community Associations, the Friends of Cedar Hill Park, the Cedar Hill Golf Club and the CRD. The group will assist with scoping of the project, developing a vision statement and plan, public engagement process, and will act as a sounding board for ideas.
Feedback
Contact us at parks@saanich.ca or 250-475-5522 with your input on Cedar Hill Park.