Saanich enjoys a Mediterranean climate. This gives us a long growing season and mild winters that allow us to grow plants that wouldn't survive anywhere else in Canada.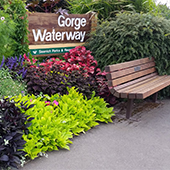 Plants you'll find in our parks [PDF - 1.5 MB]
Horticultural Display Pictures [PDF - 2.9 MB]
We take pride in designing our garden displays. See an example of the design work and final garden at Saanich Commonwealth Place [PDF - 1.2 MB].