After a comprehensive renovation and moderinzation of our clubhouse facility, Cedar Hill Golf Course will soon begin event and facility rentals again.
Please enquire by email or by phone: 250-475-7150 (during regular business hours).
Cedar Hill Golf Course is an ideal event venue for your next gathering. Located just minutes from downtown Victoria, the venue offers a recently renovated clubhouse, panoramic views of the city & Olympic Mountains and meticulously kept grounds. We aim to exceed your expectations with our attention to detail and focus on you.
Event Rental Features
Private patio
Free parking
Dance floor and DJ set-up
Lecturn and microphone
LCD projector & screen
Directional signage
Golf Tournaments
Contact us today to discuss your next group golf event!
Meetings, Weddings, Banquets, Workshops and Seminars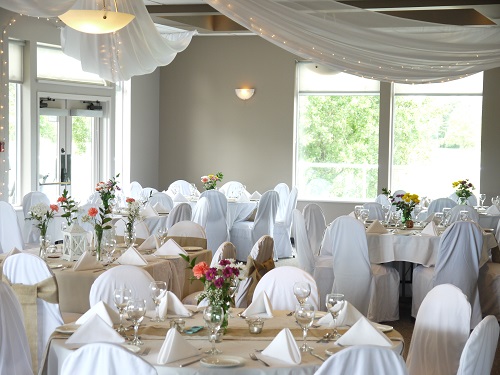 After a comprehensive renovation of our facilities, the clubhouse at Cedar Hill Golf Course will soon be available for event rentals. Please contact us today for more information.
Cedar Hill Golf Course Clubhouse FAQs
How will the clubhouse's reopening affect the golf experience at Cedar Hill Golf Course?
NEW: Players will check in at the newly-renovated Pro Shop on the lower floor of the clubhouse, just off the first tee.

NEW: Once an event operations resumption date is announced for the banquet, lounge and meeting room spaces they will be available to rent for events, meetings and community events. These room rentals will be handled by the District of Saanich Cedar Hill Golf Course Recreation Clerks. Groups using these spaces may support local businesses by choosing from local caterers.

Players and the public may enjoy food and a beverage ordered from the concession window on the outdoor patio (ground level). The beverage cart has also resumed operations. Both of these services are provided by Lakeland Golf Management

Washroom facilities are currently available from the exterior of the clubhouse (adjacent to the chipping green). Washroom facilities inside the clubhouse are available during business hours.
When will the clubhouse be available to rent for events?
Groups who have already contacted Cedar Hill Golf Course about renting the clubhouse are on a contact list and will receive more information regarding their booking enquiries once event operations resume.
Rental information, including rates and guidelines will be posted here once the clubhouse event operations resumption date is announced.
How to Find Us
Accessibility
Accessible washrooms
Elevator to clubhouse second floor