Cedar Hill Golf Course is now accepting requests for bookings at the clubhouse.
Cedar Hill Golf Course is an ideal event venue for your next gathering. Located just minutes from downtown Victoria, the venue offers a recently renovated clubhouse, panoramic views of the city and Olympic Peninsula and meticulously kept grounds. We aim to exceed your expectations with our attention to detail and focus on you.
Event Rental Features
Picturesque views of Victoria and the Olympic Peninsula
Personalized room layouts
Linens available
Private patio
Dance floor and DJ set-up
Lecturn and microphone
LCD projector & screen
Free parking
EV charging stations (4)
Golf Tournaments
Contact Director of Golf, Steve Phillips today to discuss your next group golf event!
Click here to view Group Booking and Tournament Guidelines.
Meetings, Banquets, Workshops, and Seminars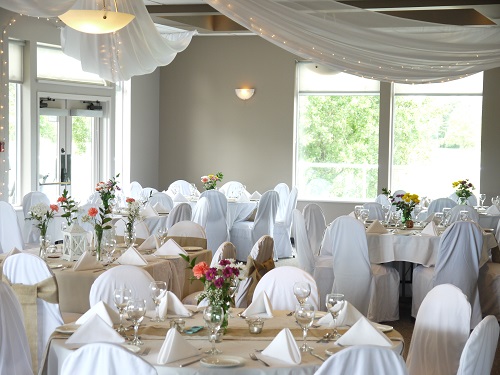 After a comprehensive renovation of our facilities, the clubhouse at Cedar Hill Golf Course is now available for event rentals. Please contact us today for more information.
Cedar Hill Golf Course Clubhouse Information:
Clubhouse banquet and meeting room spaces are available for your next event. For information and reservations, please speak to Cedar Hill Golf Course Administration at 250-475-7150.

Food, beverage, and bartending services in the clubhouse are provided exclusively by Lakeland Golf Management. The Derby at Cedar Hill Restaurant offers a wide range of menu options and can customize menus to suit your needs. The Derby can be reached at 250-475-7151, option 4. See their menu here. Please note: external food and beverage caterers, vendors, or other service providers are not permitted unless approved by prior discussion with Lakeland Golf Management.

Players and the public may order food and a beverages from La Roccia Café on the outdoor patio (ground level). The beverage cart resumes operation in July of 2023. Both services are provided by Lakeland Golf Management.

Washroom facilities inside the clubhouse are available during operating hours. Exterior clubhouse washrooms, adjacent to the chipping green, are available dawn to dusk daily. On-course washroom facilities are open to golfers seasonally, weather dependent.

Rental information:

Room
Square Feet

Recommended Occupancy

(depending on set up)

Full Day (8hrs)
Half Day (4hrs)
Hourly
Banquet Room
1402
80-105
$712 Incl. GST
$356 Incl. GST
$98 Incl. GST
Meeting Room #1
198
8-10
N/A
N/A
$32 Incl. GST
Meeting Room #2
383
15-19
N/A
N/A
$47 Incl. GST

White tablecloths may be rented for a flat fee of $26.25 Incl. GST. Customized room set-up is $40.50 per hour.
Accessibility
Accessible washrooms
Elevator to second floor of clubhouse