Golf Course Features & Amenities
Open to the public year-round, Cedar Hill Golf Course features a player-friendly 18-hole, 5,200 yard, par 67 course, with picturesque views of the Olympic Mountains.
Enjoy affordable green fees, a practice range, putting and chipping greens, cart and equipment rentals, and instructional programs with PGA of Canada professionals. Our exceptional greens and fairways will far exceed your expectations. Cedar Hill Golf Course offers an enjoyable and accessible golf experience for everyone, just minutes from downtown Victoria! Cedar Hill Golf Course and Cedar Hill Park are non-smoking properties under the CRD Clean Air Bylaw.
| | | |
| --- | --- | --- |
| Tee Yardage | Regular | Forward |
| Total yards | 5,134 | 4,825 |
| PAR | 67 | 67 |
| Men's rating | 63.1 | n/a |
| Women's rating | 68.1 | 67.9 |
Golf Course Hours
The Cedar Hill Golf Course and the pro shop are open seven days per week, year round, dawn until dusk. The clubhouse administration office is open Mon - Fri (excluding statutory holidays) 8:45am - 3:45pm. Closed 1/2 hour for lunch.
The Derby at Cedar Hill Restaurant - NOW OPEN!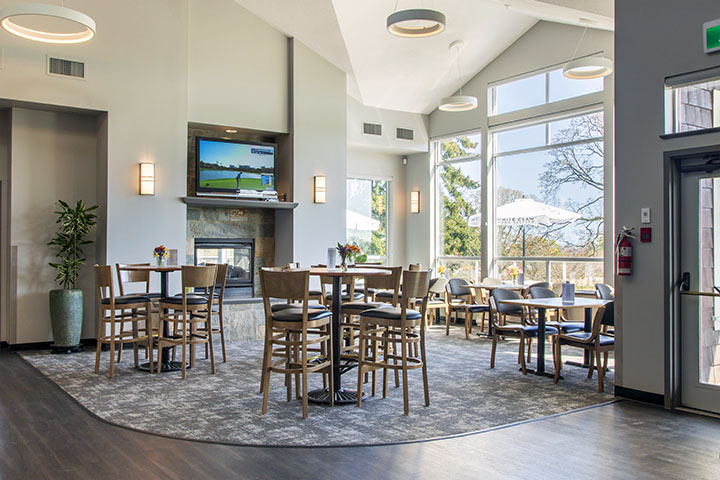 Licensed dining for lunch and dinner returns to the Cedar Hill Golf Course clubhouse with The Derby, a new restaurant operated by Lakeland Golf Management, Inc. Enjoy starters and casual favourites, or elevate your experience with delicious entrees, steaks and pasta features. See their menu here.
The Derby at Cedar Hill Hours
Seven days/week, 11am - 8pm as of Aug 7, 2023.
La Roccia Café Hours
Our licensed café, operated by Lakeland Golf Management, is open 11am - 6pm Wed-Sun. 11am - 4pm Mondays. Closed Tuesdays - some products are available in the Pro Shop on Tuesdays. Subject to change.
Food & Beverage Service and Beverage Cart
Look for our licensed food an beverage cart on course (hours and availability vary) or visit La Roccia Takeout Café in the clubhouse.
Accessibility
Accessible washrooms
Elevator to clubhouse second floor
Cedar Hill Park Walking Trail
For non-golfers, a picturesque 3.5 km chip trail surrounds the course. Whether you are a walker, runner or nature enthusiant, you will marvel at the wonderful views this wooded trail offers.
Environmental Stewardship
Lead by its dedicated grounds crew, Cedar Hill Golf Course is in the process of completing the Audubon Cooperative Sanctuary Program for Golf certification — an award winning program that helps golf courses protect our environment and preserve the natural heritage of the game of golf.
How to Get Here
Cedar Hill Golf Course is centrally located just minutes from downtown Victoria. The course is easily accessible by car or bus, with free parking, bicycle racks and repair station, and four EV chargers.
If travelling by bus, the closest stops are route #25, Maplewood at Derby; route #24, Cedar Hill at Derby; or routes #27/28, Shelbourne at Derby. Plan your route.