The 2022 Community Canvas Mural Project is now complete! Three colourful murals were created in Saanich Parks to add vibrancy, bring creative artwork by regional artists into our shared public spaces, and celebrate our community, culture, and diversity.
1) Mural at Cedar Hill Park: "Taking Flight"
Artist Claire Crawford was commissioned by Saanich to design and paint the first outdoor mural for Saanich's Community Canvas Mural Project! The entrance to the Cedar Hill Recreation and Arts Centre (3220 Cedar Hill Road) has been transformed with Claire's mural, Taking Flight. The installation process included a community painting day with over 50 participants who had a chance to meet the artist and contribute to art in their community.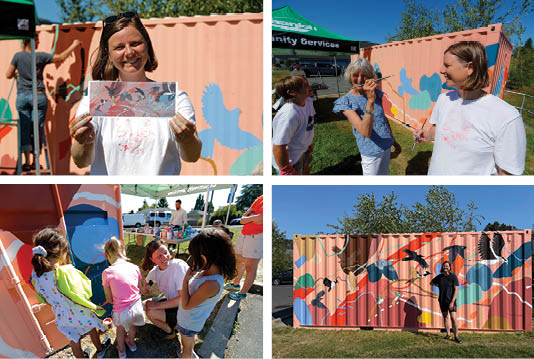 About the Artist
Claire Crawford is an artist and illustrator living and working on Vancouver Island. Claire works with watercolour, gouache, pen and ink and as a muralist. Much of her work aims to depict the deep interconnectivity of humans and animals as beautiful, destructive, hopeful, and helpless.
Mural Concept
To celebrate community vibrancy within this mural, the artist's concept was to create a dynamic design of many different species of birds flying through the mural space in a triumphant manner. The mural is a wonderful reminder that the region welcomes everyone into their community space and where community members and the surrounding area can thrive.
The design was created specifically for the Cedar Hill Park area as the location provides a confluence of many different assets, both natural and social, the location brings many people together. People with varied backgrounds and interests, with a common thread of making use of a diverse and welcoming area. This multi-use and natural area is celebrated for its inclusivity, as highlighted by the many different species of birds within the mural design.
2) Mural Installation at Beckwith Park
Beckwith Park has been enriched with a new mural by local artist Sarah Jim! Visit Beckwith Park (857 Beckwith Avenue) to see the second mural for the Community Canvas Mural Project.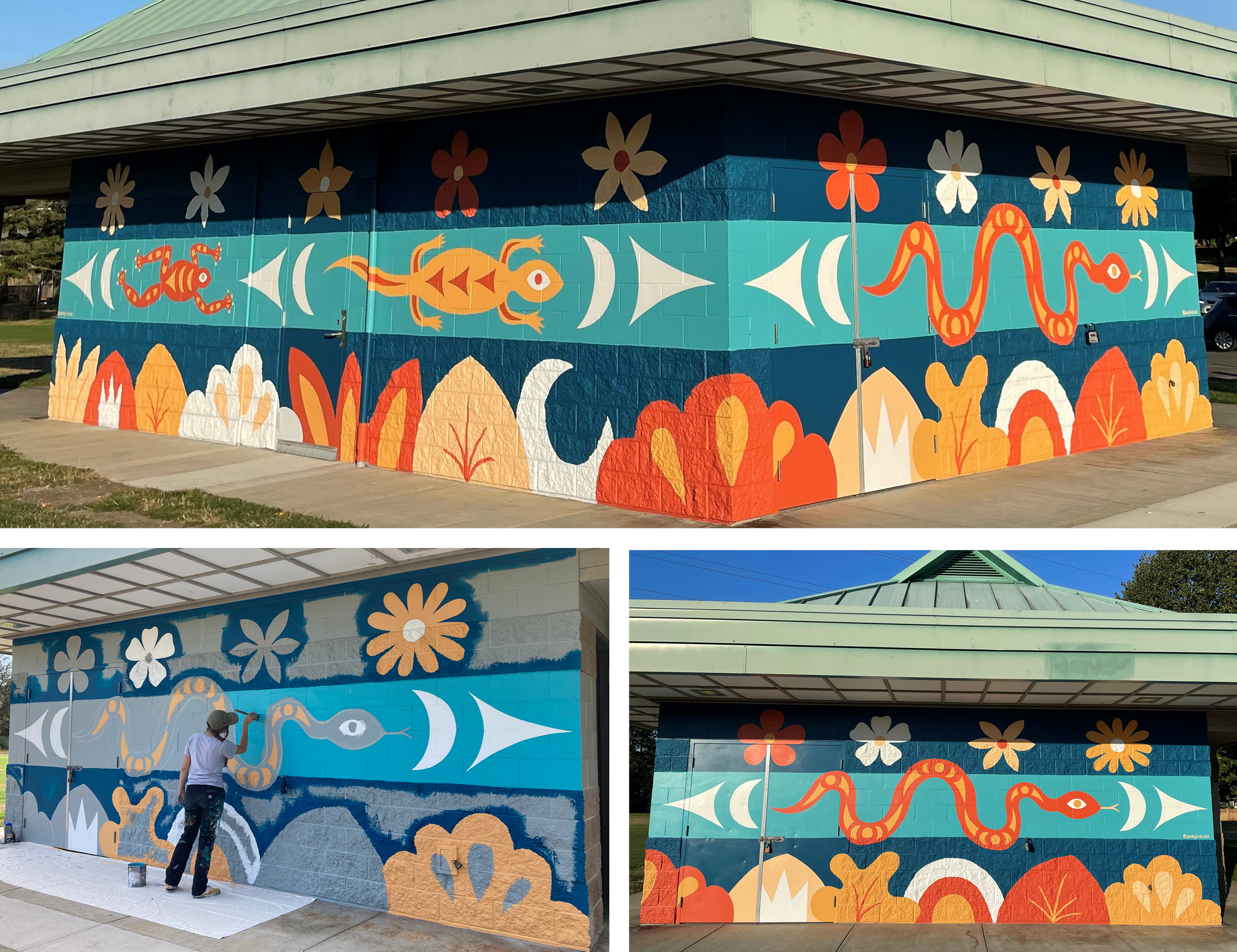 About the Artist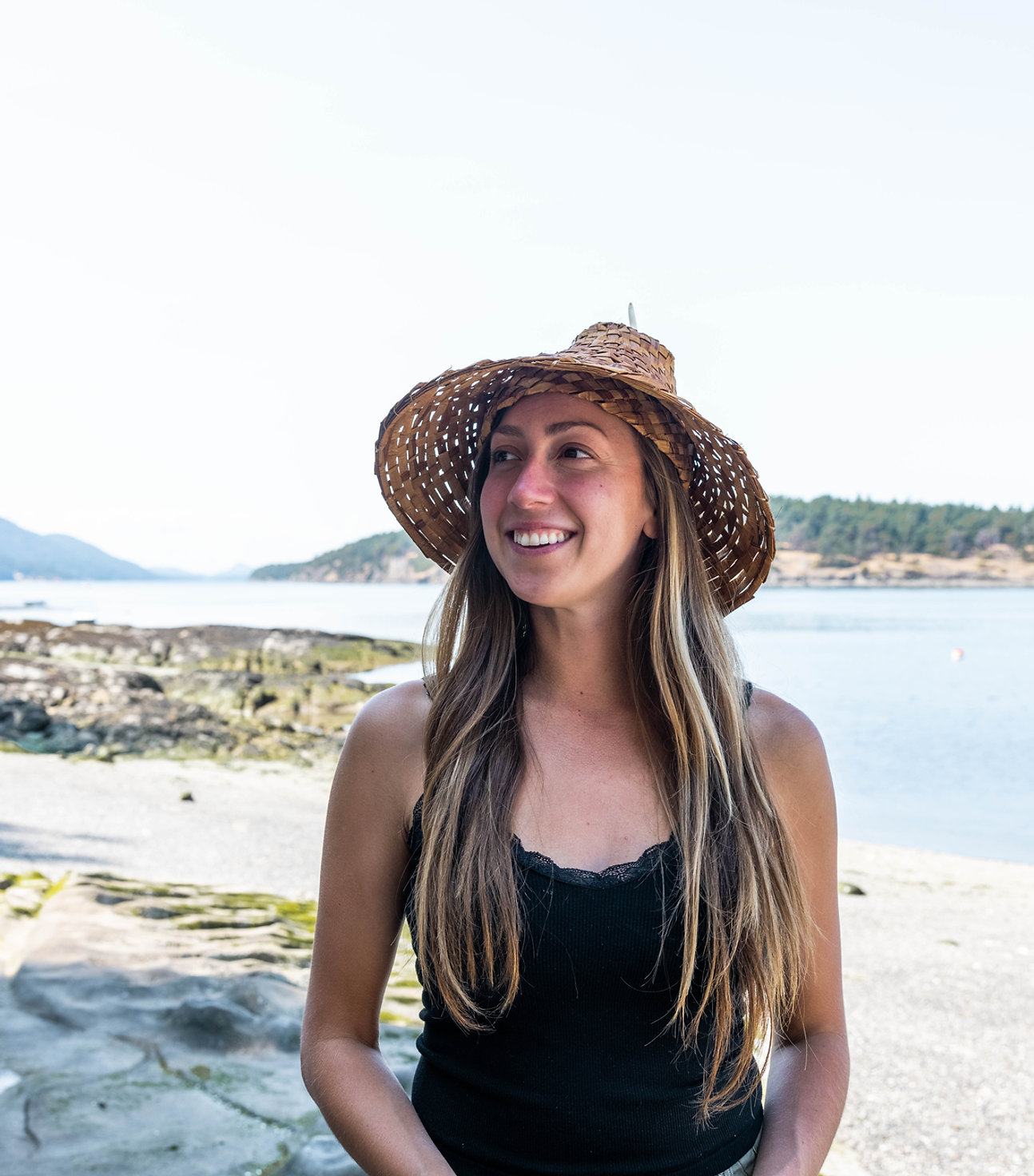 Sarah Jim is an artist of Coast Salish, Mexican, and Russian-Jewish ancestry, and is a proud member of the W̱SÁNEĆ nation from the Tseycum village. Sarah emulates her love of ethnobotany and ecosystem restoration through her artwork which consists of paintings, prints and murals.
Mural Concept
Receiving inspiration from the land, the artist's concept acknowledges the surrounding ecosystems, ethnobotanical depictions, themes of interconnectivity, and land-based W̱SÁNEĆ teachings. The design is very natural, including Coast Salish elements, flora, fauna, and hints of the cosmos. The mural creates a space for discovery with creatures such as the WEXES (pacific chorus frog), a symbol of new beginnings as they announce spring with their song. The artist hopes to spread awareness of the nearby pond/wetlands and camas meadows, as these spaces, creatures, and plants deserve to be protected.
3) Mural Installation at Layritz Park
Local artist Jesse Campbell was selected to design and install the third mural at Layritz Park.
While Jesse was the lead artist, he also collaborated with Temoseng (Chazz Elliott) from Tsartlip First Nation who contributed designs that were integrated into the mural. The artwork is stunning from every angle!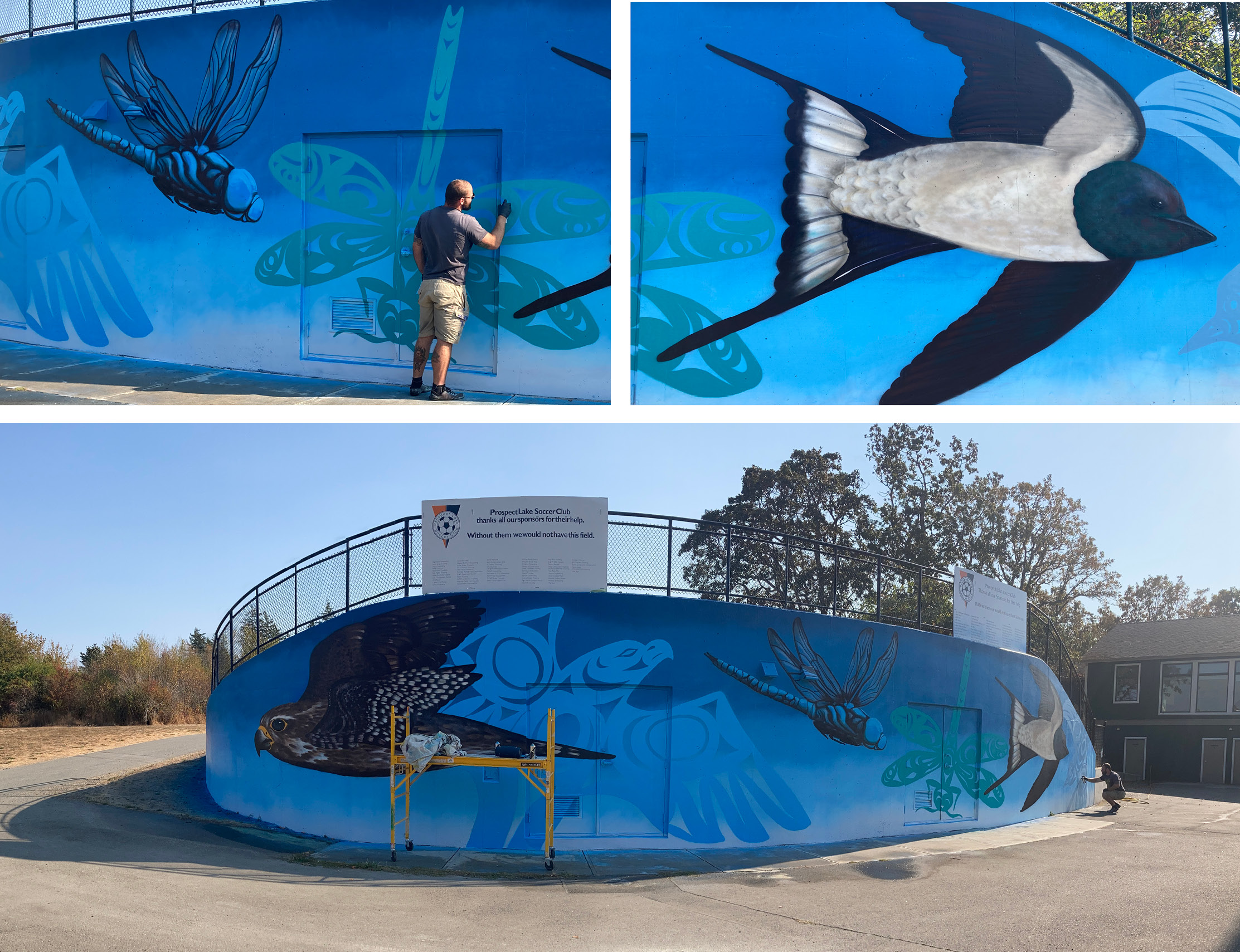 About the Artists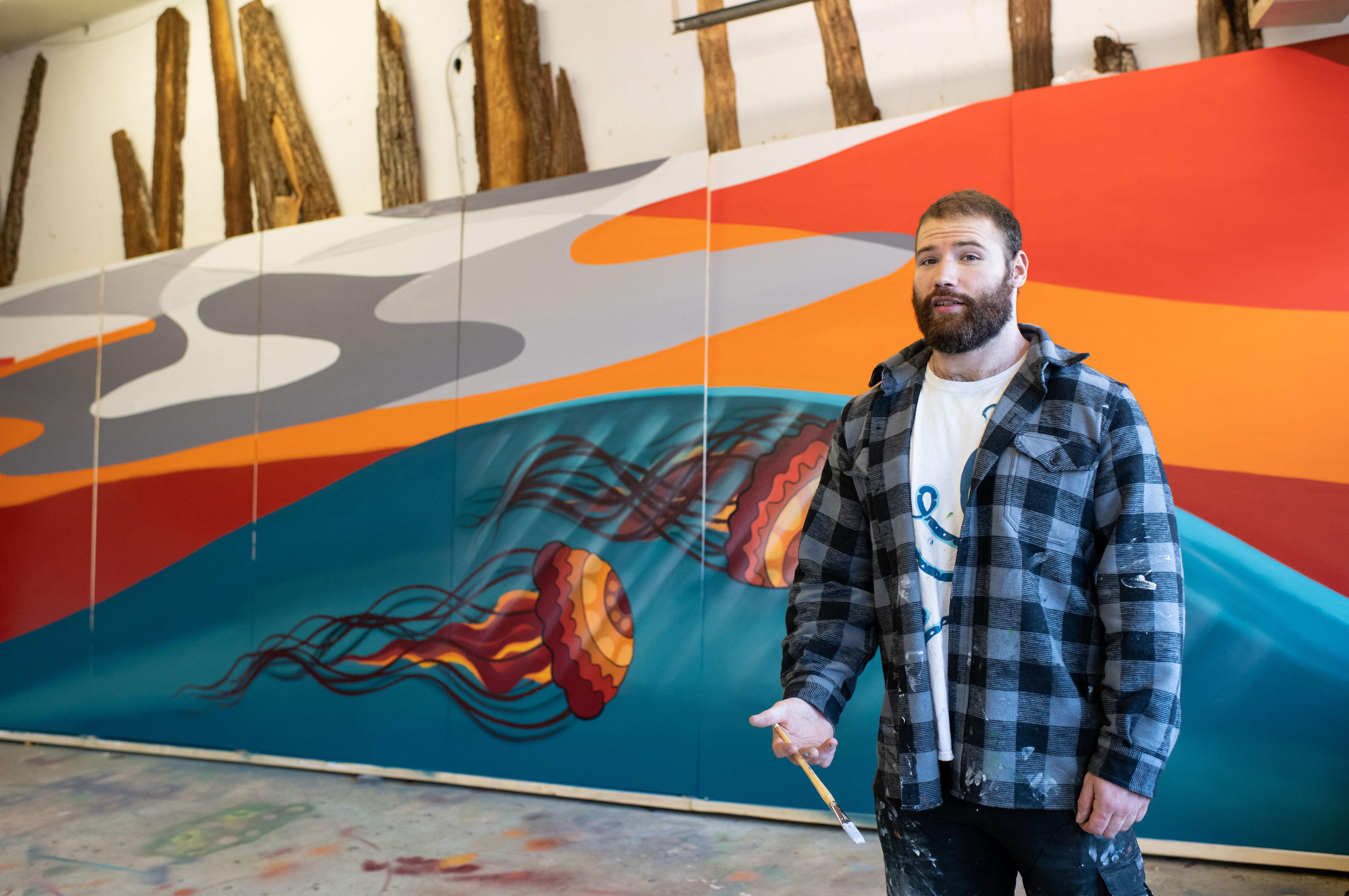 Jesse Campbell is of Michif (Métis), Salteaux, Cree, Scottish, and English ancestry and has been a professional mural artist since 2010. In addition to his mural practice, Jesse spends time mentoring youth on the craft of mural painting and understanding the diverse forms of Indigenous art across North America.
Temoseng (Chazz Elliott) descends from the WSÁNEĆ and Lekwungen Nations. While growing up in WJOȽEȽP (Tsartlip) First Nation., he began learning the ways of Coast Salish art and the WSÁNEĆ teachings. Temoseng's artwork includes carvings, design and paintings.
Mural Concept
The concept references activities within the park and the gathering of community for the purpose of movement and sport. The concept for this mural is derived from the dipping, swooping, and dynamic motion of birds between branches of trees. The mural features the Swallow, Sharp Shinned Hawk, and Dragonfly. The dynamic movement of the swallow and its sloping wings allow it to move with both grace and agility. The Hawk is a raptor that feeds on smaller birds and mammals and represents cunning and intelligence. The dragonfly represents the small creatures who are often not represented. The mural incorporates elements designed by Chazz Elliot that respond to the depicted animals and the theme of movement.
Project Background Information
Through this project, the District of Saanich commissioned three murals with goals to:
Enhance Saanich neighbourhoods and public spaces through the integration of public art and opportunities for the public to engage with the arts
Support artists to produce publicly accessible, engaging art in Saanich that provides community impact, sense of pride, identity and belonging
Celebrate community, culture and diversity.
Artists were chosen for each mural site by a Selection Committee through an open, two-stage process (learn more about the selection process). The District of Saanich recognizes and values diversity and inclusion and encouraged artist and selection committee applications from individuals and groups that are typically underrepresented, including BIPOC (Black, Indigenous and People of Colour), 2SLGBTQIA+ identifying individuals, and persons with disabilities.
Questions about the 2022 Community Canvas Mural Project?
Contact: Brenda Weatherston, Community Arts Programmer, t. 250-475-5557, e. brenda.weatherston@saanich.ca.