Individual Environmental Achievement
Sharon Stangeland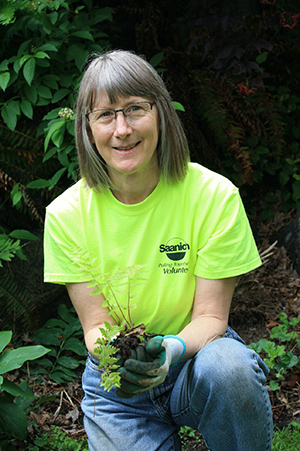 Sharon received the individual environmental achievement award for her stewardship, restoration and community leadership in South Valley Park. Sharon is the dedicated lead steward volunteer in South Valley Park for Saanich's Pulling Together Program, working on invasive species removal and ecological restoration while engaging the community with her volunteer events in this park. For over 10 years, Sharon has been a weekly steward of this park and has hosted large community groups such as Scouts, Girl guides, faith groups and individual volunteers in removing invasives and native planting in the wetland. When she's not leading stewardship activities at South Valley Park, Sharon contributes time to other nearby parks such as Knockan Hill and Marigold Park.
Volunteer Organization
Kings Community Nature Space Fundraising Group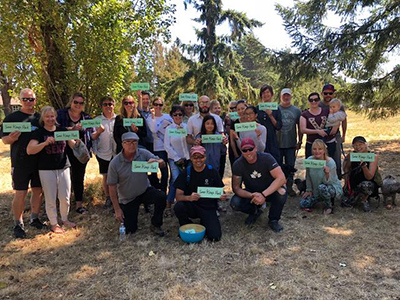 The Kings Community Nature Space Fundraising Group was recognized with the volunteer organization award for all their work in partnership for the protection of the Kings Community Nature Space. Over 3 decades of work by this group resulted in the successful protection of this urban green space near the Royal Jubilee Hospital. This area has potential for restoration activities and currently includes active owl nesting in boxes mounted by the community. Members of this group lobbied three levels of government, canvased door to door, engaged with over 1000 local businesses for donations and support, identified grants, hosted community events and went above and beyond in raising awareness of the environmental importance of this remnant green space. Through his group's dedication, community and partnership funds were secured and Saanich Council completed the protection of this treasured green space.
Youth
Matthias Spalteholz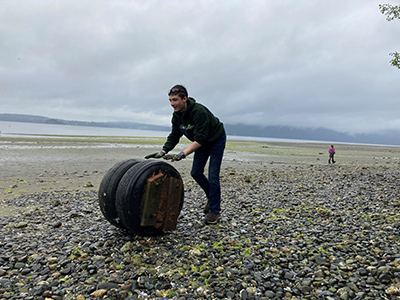 Matthias Spalteholz received the youth award for his exemplary youth leadership for environmental stewardship and climate action. Matthias has been working on environmental initiatives since elementary school and is now a passionate student in Claremont Secondary's Institute for Global Solutions. He has worked on many important areas including sustainable energy, environmental stewardship, policy change and youth activism. He has engaged with Saanich and politicians on sustainable transportation and put together a petition for a charging network for EVs across Canada which was presented in the House of Commons by MP Elizabeth May. He founded the team at Royal Oak Middle School that developed a One Planet action plan for the School and has spoken at a teacher's conference on youth climate action projects in Saanich. In the Pursuit of Excellence Program at Claremont, he has started a project on EV charging stations at Claremont Secondary. In addition, he has engaged in natural area stewardship such as restoration of Mahon Brook and was the winner of the recent One Planet School Challenge for his wonderful Video submission "Change that can be seen from Space", which documented the Bamberton Beach clean-up. One of his Claremont teachers describes that Matthias: "not only has multiple ideas about how to help the environment and his local community, but does the work and puts together teams that take real action and have made real change in Saanich."
Biodiversity Conservation
Barry Andruschak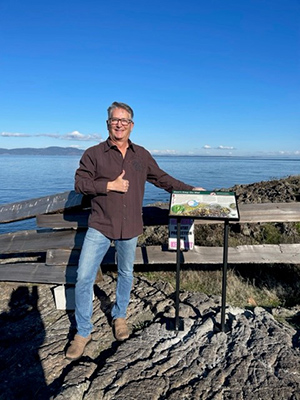 Barry Andruschak was recognized with the Biodiversity Conservation award for his protection and stewardship of species at risk on private lands. Barry originally applied for an environmental development permit to build a house on his vacant lot as the property included a federally listed species at risk. When the Environmental Development Permit Area was rescinded, he continued to protect the plant species, Bearded Owl Clover, hired a biologist to inventory and study the plant population and make recommendations for conservation. He minimized impacts by careful site development, placement of a smaller house than could have been built and on-going maintenance of the habitat. Barry took a personal interest in these small plants, and worked with Saanich to construct a fence around the plant population on private and public lands to create one enclosure. He also assisted in the development of an interpretive sign that provides information about the species at risk for visitors that use the beach access. In addition, Barry maintained and replaced native tree habitat during his development.
Sustainability
Jim Church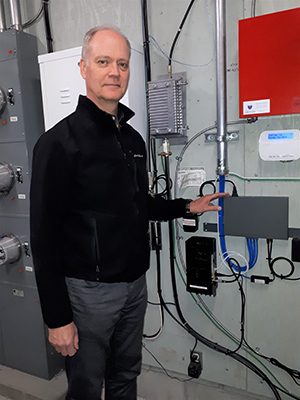 Jim Church received the Sustainability award, recognizing his leadership and support for electric vehicle transitions in Saanich strata buildings. Jim originally worked with his Strata to overcome challenges and help retrofit his entire strata complex to become "EV Ready" and install electrical infrastructure. This type of comprehensive upgrade was unheard of a couple of years ago, and the process that Jim led his strata through has helped pave the way for others in the region to do the same. As transportation is the largest source of Greenhouse Gas emissions in Saanich, we need 36% of residents to be driving electric by 2030 - but lack of access to at-home charging poses a major barrier for strata residents. Jim became a champion for this process and has been helping other stratas overcome the barriers to be EV ready as well as working with Saanich to highlight these case studies. Jim's story was picked up by the media in the CRD and Metro Vancouver and he has now been contacted by over 120 stratas (which he updated at the awards to over 150 stratas). Jim continues to offer his support and inspiration for others.
Long Term Achievement
Heather Coey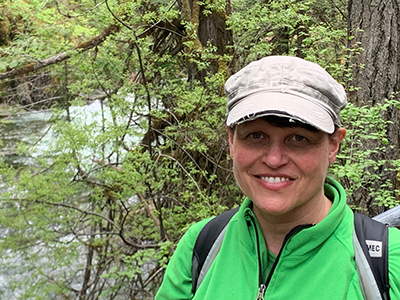 Heather Coey was recognized with the long-term environmental achievement award for her leadership in youth engagement in environmental stewardship and sustainability. Heather has been a remarkable and inspiring environmental educator who has gone above and beyond in her work with students at Reynolds Secondary, where she has led a rich range of eco-leadership initiatives. Heather is entering her 33rd and final year teaching in Saanich and this award honours her work and legacy in engaging youth in environmental and sustainability action. Through her work at Reynolds Secondary School, their sustainability curriculum won the BC Green Games for 10 years running. The school has been an active participant in One Planet Saanich where Heather facilitated the students to engage with the broader community on sustainability priorities. Heather has also led countless creative and inspirational environmental stewardship and sustainability related initiatives at Reynolds that have engaged students as leaders and with many community partners. Heather leaves a rich legacy for her remarkable dedication, passion and her role in facilitating young leaders with the skills and passion to lead us towards the kind future we need.
Summary of Past Winners