Recently, Saanich and BC Hydro agreed to a licence of occupation at the George Tripp Substation on Lochside Drive near Cedar Hill X Road. The site is in close proximity to Reynolds Secondary School, Lakehill Elementary School, Saanich Parks and Public Works Yard, Lochside Regional Trail and Ambassador Park as well as the Quadra/McKenzie neighbourhood centre.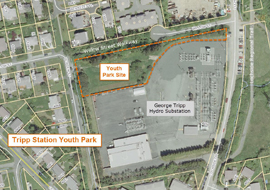 The land is owned by BC Hydro and houses the George Tripp Hydro Substation which was originally built in the 1950s to service approximately 26,000 customers. Over the last few years the station has received $47 million in upgrades to meet current and future demands. Presently, one acre of the property at the north end is unused for hydro purposes and BC Hydro has agreed to allow the District of Saanich to use the site for the purposes of building a youth park. The license is renewable on a five year basis.
Community consultation
Youth survey
As we move forward with the Youth Park we hosted a survey to get your thoughts on what to include in the park. The survey is now closed and staff are analyzing the 367 responses.
Soon, we can start developing a few options that would work for the site based on what we heard and will be presenting those to you in the near future for your feedback.
Here are the survey results. [PDF - 319 KB]
Neighbourhood notification
We are currently in the information gathering stage of the project and will be bringing some conceptual options to a public event early in 2020. First up was a letter to the local community letting them know about this project!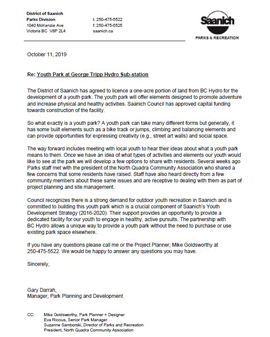 November 28, 2019 - Project Update
On November 28, 2019 staff attended the North Quadra Community Association's monthly board meeting to provide a status update on the project. Check out the presentation [PDF - 3 MB]. We spoke to:
connection to the Youth Development Strategy
student workshops
preliminary survey results
neighbourhood feedback
concerns about unwanted activity in area and/or noise
access to site, traffic and parking
next steps
What is the goal?
The primary focus of the youth park is to provide a bike skills facility such as a pump track and might also include a bouldering wall, parkour course, low ropes/slack lines and arts as the space and funding allows. A workshop with local youth will help shape some ideas for the park.
The Saanich Youth Development Strategy and Implementation Plan 2016-2020 approved by Council in December 2015 calls for the completion of a youth park in Saanich by 2019. The park is intended to promote adventure, assist in youth health and development, and to increase physical activity levels.
Once constructed, the youth park will be managed and maintained as a park by District of Saanich staff.