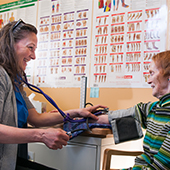 Take Heart and Breathe Well is a 12 week cardiopulmonary rehabilitation program we offer in partnership with Island Health. This program is suitable for people who have had a cardiac event or have heart health risk factors, or chronic conditions such as: Diabetes, lung conditions (COPD, emphysema), kidney disease and high blood pressure.
Includes:
Individual assessment
Personalized exercise plan
Aerobic and strength training
Informal risk factor information
Sandy Gilmour, American Council of Sports Medicine (ACSM) certified exercise specialist and registered nurse, leads our team.
Fees
$400
You need a referral or doctor's approval to register.
For more information or to register, contact Lisa Banks (250) 475‑7619.