Initial concept plan - survey results
We provided opportunity for public to give us their feedback on the draft concept plans. The survey period ended May 10, 2021. Check out the preliminary results [PDF - 101 KB]!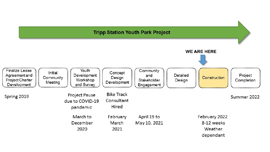 Tripp Station Youth Park presentation panels and concept options
Pictures of the 3 options are below.
Option A: Power Inverter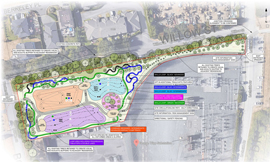 Option B: Turbine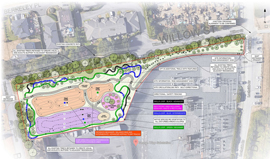 Option C: High Voltage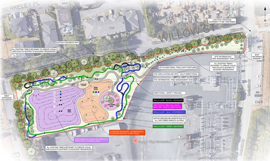 Background information on this project
The land is owned by BC Hydro and houses the George Tripp Hydro Substation which was originally built in the 1950s to service approximately 26,000 customers. Over the last few years the station has received $47 million in upgrades to meet current and future demands. Presently, one acre of the property at the north end is unused for hydro purposes and BC Hydro has agreed to allow the District of Saanich to use the site for the purposes of building a youth park. The license is renewable on a five year basis.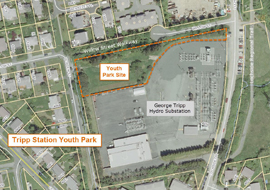 Past project updates
March 9, 2021
Saanich Parks is pleased to announce that the team at Bike Track has been selected to design and build the new bike skills parks at the Tripp Station youth Park off Lochside Drive. This international firm was selected for the project through a public competition late last year.
Bike Track has over 60 years of experience in cycling throughout their work force. Bike Track is dedicated to providing high quality cycling facilities for the communities they work with. They are focused on the user experience, the flexibility and longevity of the venues they design and build.
Design work is currently underway with further public engagement in the coming weeks. We anticipate construction to begin in May and be complete this summer.
October 1, 2020
The License of Occupation Agreement between Saanich and BC Hydro is now finalized. This secures the land for Saanich to move the project forward to the next step which is design. Once a youth/bike park designer is on board for the project there will be further Youth and Community consultation. Construction won't begin before late spring of 2021.
May 19, 2020
Parks sent residents near the George Tripp BC Hydro Station a letter about the project status [PDF - 404 KB]. Community consultation and procurement of a design consultant still to happen. Don't expect any construction until 2021.
March 25, 2020
Originally, Parks staff were going to host a community event by mid-April. For reasons beyond our control, the hiring of a design consultant for the Youth Park is post-poned. Due to current health concerns and the need to maintain social distancing, all public engagement activities are on hold until further notice. When the BC Ministry of Health relaxes physical distancing requirements and we hire a design consultant, the planning process will resume.
January 28, 2020
Since our last update, Parks staff gathered information about what exactly youth in our community wanted to see in the park. Staff also met made a presentation to the North Quadra Community Association. Through this we heard many positive comments but also some concerns. Saanich is committed to addressing these concerns to make the Youth Park a successful community asset.
A follow-up letter [PDF - 223 KB] was sent to nearby residents January 27, 2020.
Youth survey
As we move forward with the Youth Park we hosted a survey to get your thoughts on what to include in the park. The survey is now closed and staff are analyzing the 367 responses.
Soon, we can start developing a few options that would work for the site based on what we heard and will be presenting those to you in the near future for your feedback.
Here are the survey results. [PDF - 319 KB]
Neighbourhood notification
We are currently in the information gathering stage of the project and will be bringing some conceptual options to a public event early in 2020. First up was a letter to the local community letting them know about this project!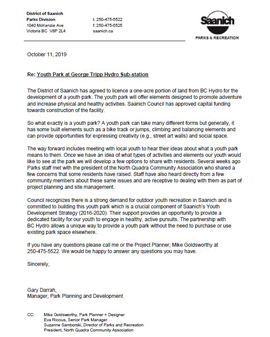 November 28, 2019 - Project Update
On November 28, 2019 staff attended the North Quadra Community Association's monthly board meeting to provide a status update on the project. Check out the presentation [PDF - 3 MB]. We spoke to:
connection to the Youth Development Strategy
student workshops
preliminary survey results
neighbourhood feedback
concerns about unwanted activity in area and/or noise
access to site, traffic and parking
next steps
What is the goal?
The primary focus of the youth park is to provide a bike skills facility such as a pump track and might also include a bouldering wall, parkour course, low ropes/slack lines and arts as the space and funding allows. A workshop with local youth will help shape some ideas for the park.
The Saanich Youth Development Strategy and Implementation Plan 2016-2020 approved by Council in December 2015 calls for the completion of a youth park in Saanich by 2019. The park is intended to promote adventure, assist in youth health and development, and to increase physical activity levels.
Once constructed, the youth park will be managed and maintained as a park by District of Saanich staff.