Vegetation Control on Panama Flats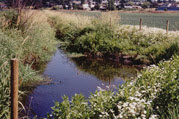 We currently perform minimal maintenance on the existing vegetation on an annual basis. We mow once annually and till the fields as needed (about every other year) to break down the vegetation. Primary gravel pathways are maintained as needed. Pathways closed during periods of creek flooding. For further information email parks@saanich.ca or call us at 250-475-5522.
Panama Flats Concept Plan
Following a public engagement process Saanich Council approved the Concept Plan for Panama Flats in February 2014. The specific motions were:
a) endorse the Panama Flats Concept Plan prepared by LADR Landscape Architects dated October 23, 2013;
b) consider at a future Public Hearing, an application to the Agricultural Land Commission to include the proposed portion of Panama Flats in the Agricultural Land Reserve; and
c) subject to the proposed portion of Panama Flats being included in the Agricultural Land Reserve, an Expression of Interest be issued for farming these lands, the results of which would be considered by Council at a future meeting."
In February 2021, Council revisited this plan based on public feedback. New direction is:
"That:
Council cease the application to add additional lands at Panama Flats to the Agricultural Land Reserve;
Staff be directed to implement other elements of the Panama Flats Concept Plan as opportunities and funding permit; and
Staff be directed to bring a report to Council on options for the protection in perpetuity for these lands."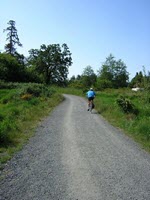 Updates will be made available as these motions are implemented.
The original report to Council and the associated attachments can be found through the following links:
We acquired the property in December 2011 to:
establish the site as public open space to provide flood plain management
optimize environmental values
create new park and trails
enhance food security.
The property was previously used for a variety of agricultural purposes for many decades drastically altering the land. The Colquitz River, which is an important fish habitat, runs along the western edge of the flats. When combined with adjacent parkland the total area of the site is approximately 116 acres (47ha).
Public Engagement
We held an open house in October 2013 at Northridge Elementary School to involve members of the public in the planning process.
Display Panels
Panel #1 Panama Context Plan [PDF - 1.5 MB]
Panel #2 Panama Introduction [PDF - 2.5 MB]
Panel #3 Panama Flats Flood Plain Maintained [PDF - 1.1 MB]
Panel #4 Agricultural History [PDF - 997 KB]
Panel #5 Proposed Agricultural Use [PDF - 1 MB]
Panel #6 Panama Drainage Option for ALR [PDF - 942 KB]
Panel #7 Panama Existing Ecological Values [PDF - 965 KB]
Panel #8 Panama Proposed Ecological Elements [PDF - 1 MB]
Panel #9 Panama Current Recreation Use [PDF - 965 KB]
Panel #10 Panama Proposed Recreation Use [PDF - 965 KB]
Panel #11 Panama Concept Plan [PDF - 1.2 MB]
Planning Process
We worked with a multi-disciplinary team of consultants led by LADR Landscape Architects to develop a concept plan to guide the long range development and operation of the site. The plan established:
A framework for future long term uses of the site
A land use concept based on consultation with the community
A guide to future site use and operations
Key site issues are:
Agriculture – a priority focus to enhance local food security

Preservation of farmland
Expansion of the ALR

Watershed, flood plain and storm water management
Environment - fisheries, waterfowl; rare plant and endangered bird species.

Conservation
Habitat Restoration
Colquitz River

Parks and Trails

Lands to the northwest, west and south zoned P4 and P4N
Municipal park classification
Existing Colquitz River trail and potential for perimeter trail

Recreation opportunities
Existing Structures – future use
Recent site alterations
Archaeology
Work to fund and implement the plan is ongoing.