Haro Woods Park Management Plan
Overview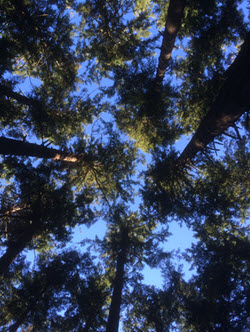 Thanks to public consultation and the help of the Haro Woods Advisory Group, we developed the Haro Woods Park Management Plan. We held a total of 4 Public Events and 13 Advisory Group meetings to collect input from the community and stakeholders.
We have incorporated the community's values in the plan's intention to accommodate visitors of all ages, and resolve long-term issues including conflicting uses, invasive plants, and impacts to soil and vegetation.
Damaging off-trail recreation
Previous off-trail travel by people, including off-trail biking and jump-building has caused much of the past negative impact to the woods. These activities can damage trees, the forest understorey, and soil. They also help invasive plants become established, which displaces the native vegetation that provides food and shelter for local wildlife.
Deciding how best to deal with off-trail biking was the most difficult aspect of the plan. Support for off-trail biking was insufficient during public consultations; as such, these activities will not be permitted in the park.
Welcome activities
Passive activities such as walking, nature appreciation, dog walking, and recreational cycling on designated trails are welcome. Watch for various initiatives in the coming months and years that support these activities. You may also notice Parks staff and volunteers working to restore areas impacted by past off-trail activity.
Help protect Haro Woods Park and the creatures who live there
Stay on existing trails whether walking or cycling.
Cyclists follow good 'Share the Trail' etiquette: yield to pedestrians, travel slowly, and let pedestrians know when you are passing.
Keep pets on trails.
Do not dig, or damage vegetation or soil.
Respect restoration sites.
Pay attention to signs posted in the park.
Report damaging activities.
Tell your friends and neighbours how they can help too.
Details about the management plan, and a record of all meetings and public input follow.
Management Plan
Haro Woods Park is an important environmental and recreational asset for the community. Saanich Parks along with the public and stakeholders have created a Management Plan [PDF - 3 MB] for the park. The plan establishes the park's guiding vision, and natural areas management and recreation strategy.
This plan has been approved by Saanich Council as of December 10, 2018.
About Haro Woods
This property is in the Cadboro Bay neighbourhood. The District of Saanich owns two of the four parcels collectively referred to as Haro Woods. These two parcels total 5.75 ha (14.2 ac) and are P4-N zoned: Natural Park.
A third parcel (1.56 ha/3.9 ac) is owned by the CRD, and the final piece (1.46 ha/3.6 ac) is owned by the University of Victoria.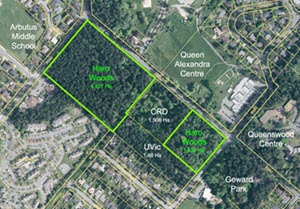 Contact parks@saanich.ca for more information.