Allenby Park [PDF - 179 KB] is a neighbourhood park located in south Saanich near the municipal border of Oak Bay. It features a playground, a sportcourt (with half basketball and half hockey), pathways, and a baseball field and building that is home to Carnarvon/Allenby Baseball Association.
New playground coming!
We asked the public about any additional comments for the proposed playground at Allenby Park and made minor adjustments where we could in keeping within the budget and project timeline and scope. Thank you for taking the time to provide final input.
Work will start late July 2022.
Check out the revised play equipment renderings!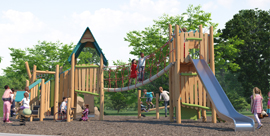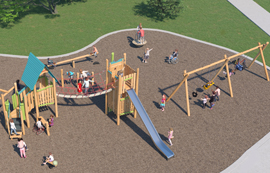 The new robinia wood playground features the following accessibility aspects:
Playhouse

Transfer station onto ages 5-12 play structure
Storefront on play structure
Accessible swing
Other play equipment includes:
Tipi carousel spinner with top brace
Double somersault bars
Accessible 'Digger' for sand area
'Mushroom' table/stools

Concrete ramp into the playground
Wood engineered fibre safety surfacing considered to be an accessible surface by the Canadian Standards Association for playgrounds
A small sand area will be provided with a natural play features. A widened main asphalt pathway will connect the playground to the new Sport Court with basketball and hockey nets at both ends. New drainage, tree planting and furniture will also be a part of the Allenby Park improvements.