Gorge Waterway Park [PDF - 125 KB] follows a 1.7 km stretch of the beautiful Gorge Waterway between Tillicum and Admirals Roads. The Gorge is a long narrow tidal channel that extends 7 km inland. Watch for wildlife including seals, otters and a variety of birds as you enjoy the scenery. You'll also find:
Reversing falls under Tillicum Bridge.
A public art sculpture.
The Victoria Canoe and Kayak Club (VCKC) and boat launch.
Horticultural displays.
Interpretive signs and benches.
Playground.
Seasonal washroom.
Parking next to VCKC, and near Dysart Road and Admirals Road.
Craigflower - Kosapsom Park with another playground, seasonal washroom, and the historic Craigflower School are at the Admirals Road-end of the park.
Horticulture Displays
We've added edibles like cabbages, leeks, artichokes, chards and kale to the perennial and annual display beds. Horticultural staff are proud of their work and are a wealth of information. Feel free to approach them when you see them.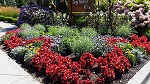 Public Art - Camossung
View Fred Dobbs' sculpture of Camossung. It honours the Songhees legend about the Spirit Being at the reversing falls [PDF - 3.3 MB]

Victoria Harbour Migratory Bird Sanctuary
A portion of Saanich's waterfront (including the shoreline of Gorge Waterway Park is located within the Victoria Harbour Migratory Bird Sanctuary (VHMBS). Visitors to these areas should be aware that specific rules and regulations apply to these areas, including some that pertain to dogs. For more information, please visit the Government of Canada webpage or Friends of the VHMB Sanctuary.