In Saanich, we have those who have municipal sewer services and those who don't. Those who don't tend to be in the rural area and have septic systems. These make up about one-third of houses in Saanich.
Those who are able to receive sewer services from us are in the Sewer Enterprise Boundary.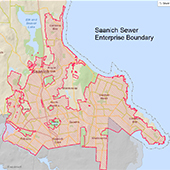 Review the sewers in your area on the Engineering and Public Works layers from SaanichMap.
A good rule of thumb to follow: anyone with a house in the Urban Containment Boundary most likely has access to our sewer system. Those outside of it, probably don't.
How to Apply for Municipal Sewer Services
Submit your request to the Engineering Department.
The decision to include sewer services to properties outside of the Sewer Enterprise Boundary is made by Saanich Council and is governed by the land-use policies.
Changes to Non-Municipal Sewage Systems
Property owners that are not connected to the municipal sewer system planning to construct, alter or repair sewage systems must contact the Vancouver Island Health Authority.
Septic Tanks
Saanich doesn't regulate septic tanks and fields. The Capital Regional District's (CRD) Septic Maintenance Bylaw does.