News release
For immediate release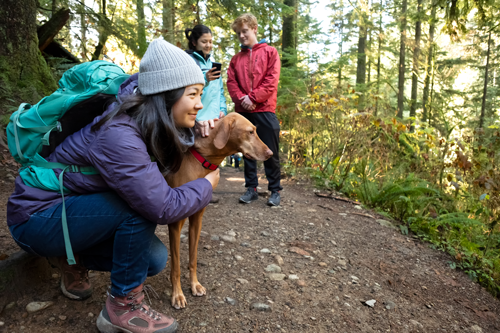 Saanich Parks invites public input on People, Pets and Parks Strategy
Saanich, BC – The District of Saanich invites all parks users to share their input toward the development of its People, Pets and Parks Strategy.
"We want all parks users, visiting with pets or not, to have positive, safe and enjoyable experiences at Saanich parks and beaches," said Councillor and Parks, Trails and Recreation Committee Chair Judy Brownoff. "This strategy will provide a framework to help us protect the environment and meet the needs of the community. To develop the strategy, we need to hear from everyone—individuals, families with children, pet owners and non-pet owners—about your experiences using Saanich parks and what you value about our parks system."
In 2021, Council directed staff to develop People, Pets and Parks: A District Wide Strategy for Sharing Saanich's Parks. Saanich hired Lees and Associates to develop the strategy and Modus to facilitate the public engagement activities. The strategy will set goals and objectives for the community's vision combined with the need for practical management of specific parks and amenities.
Ways to provide your input
There are several ways to provide your input during this first round of public engagement.
Online survey
Virtual community conversations
Thursday, June 2 from 7 to 8:30 p.m. via Zoom.
Tuesday, June 14 from 5:30 to 7 p.m. via Zoom.
Please register for a session at saanich.ca/peoplepetsparks. After registering, you will receive a confirmation email containing information about joining the meeting.
Connect with and learn from other community members as the group discusses parks use and the diverse needs to include in the strategy.
Kitchen table conversations
For those who are unable to participate in a community conversation or who would prefer to facilitate their own small group conversation, we will have workbooks available upon request. These workbooks will include background information on the project and discussion questions to guide your conversation. Participants will be asked to take notes of their discussion in the workbooks and submit them to the project team via email so their feedback can be recorded.
To receive a kitchen table workbook, please contact tru@thinkmodus.ca.
In addition, Saanich will conduct a statistically valid telephone survey during the month of June. Please take the time to participate and share your feedback if you are randomly selected and receive a call.
Later this year, Saanich will host a public open house and pop-ups at parks and beaches to gather further input from a wide range of parks users. Details will be shared on the project webpage once confirmed.
Learn more
You can also sign up for email notifications to receive updates on the strategy, learn more about Petiquette in Saanich parks and find a list of Pop-up Dog Park locations for 2022 at saanich.ca.
-30-
Media contact:
Paul de Greeff
Manager of Park Planning and Development
paul.degreeff@saanich.ca
250-475-5522