People, Pets and Parks: A District Wide Strategy for Sharing Saanich's Parks

Update
The consultant team is currently summarizing and developing initial findings based on the information collected to-date which includes data from round one public engagement activities, a literature review, and interviews with other communities with dog/pet strategies and programs. Further, the team is planning for round two public engagement activities to take place later this fall.
During the next round of public engagement, data and initial findings will be presented, explored and discussed at workshops with key stakeholders, a public open house and a second online public survey. The information collected in round two will then provide the foundation for the draft strategy.
Please stay tuned for more information and key dates for activities this fall.
Note: Due to the tremendous response received during round one of public engagement, pop-up engagement sessions will not be held in parks as originally planned. Efforts are being redirected toward round two engagement opportunities
Public Engagement Round #1
Thank you to everyone who participated in this first round of engagement, which is now complete.
Online survey
Survey was open from May 20 to June 19 and was competed by over 1,800 individuals.
Virtual community conversations
Over 50 people attended our virtual Community Conversations. Check out the presentation shared at those sessions [PDF - 4 MB].
Kitchen table conversations
These kitchen table discussions were for those who were unable or uncomfortable to participate in a community conversation or who preferred to facilitate their own small group conversation. Participants received a workbook to fill in and return to the consultant.
Statistically valid telephone survey
The Mustel Group completed a statistically valid telephone survey. Thank you to all who were selected for taking the time to participate.
The public engagement plan
The project team has planned three separate rounds of public engagement which is illustrated in this diagram.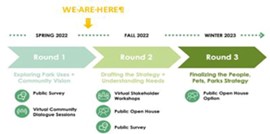 Consultant team
Lees+Associates were hired to develop the People, Pets and Parks Strategy. Sub-consultants for the project include:
Modus Planning, Design and Engagement (public engagement)
LADR Landscape Architects (precedent research)
Mustel Group (market research)
Council endorsement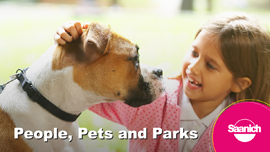 At the Special Council Meeting on July 5, 2021, Saanich Council approved that a strategy titled People, Pets and Parks: A District Wide Strategy for Sharing Saanich's Parks be developed. At that meeting staff were asked to prepare a Terms of Reference to be considered by Council. Those Terms of Reference, approved by council on August 4, 2021, outlines the selection of a qualified proponent to enter into a contract with the District of Saanich to develop the strategy.
Project Background
Recently there has been growing calls from residents for Saanich to review policies and/or regulations relating to pet management in parks. In Saanich, pet owners bring a variety of pets/animals with them when visiting parks such as horses, cats, birds, etc. but the vast majority of pets observed and reported incidents involve dogs. This is why existing rules and policies focus mainly on dogs in parks.
Many communities across the country have established designated off leash areas or "dog parks" as a way to manage conflicts between owners, their pets and other park users that would prefer a pet free experience. Currently Saanich is unique in that with a few notable exceptions, most of Saanich's parks are considered "off leash" so long as the dogs are kept under the effective control of their owners. The Animal Bylaw has been the tool to enforce this requirement. However, given the large size of the municipality and relatively low enforcement resources there has been little consistent pro-active enforcement throughout the municipality. There are few polices or bylaws relating to other pets in parks currently at Saanich.
Council has decided that an overarching District Wide People, Pets and Parks Strategy that encompasses the entire municipality is the preferred approach to addressing the community's calls. The scope of work for the project includes researching best practices, other successful municipal strategies, current park use and behaviour in Saanich, reviewing commercial pet related businesses (in parks), opportunities for bylaw amendments/enforcement, physical infrastructure requirements and public engagement.