The 2021 Housing Strategy [PDF - 6 MB] provides clear direction on how the municipality plans to contribute to improving housing opportunities and outcomes and address the urgent need to increase housing supply, diversity, and affordability. The Strategy was developed over a 13-month process to develop a Housing Strategy which included both community consultation and comprehensive recommendations from the Housing Strategy Task Force. Seven focus areas, 22 strategies, and 73 actions form the basis of the 10-year framework and represent a comprehensive approach to achieving a healthy housing supply for our community.
Update: The Housing Strategy gains momentum with the approval of a four-year funding plan
Saanich Council approved a four-year funding strategy to support the recently adopted Housing Strategy at its January 31, 2022 Council Meeting. The approval of the funding strategy allows for the immediate implementation of priority actions identified as the most impactful for improving housing outcomes in Saanich.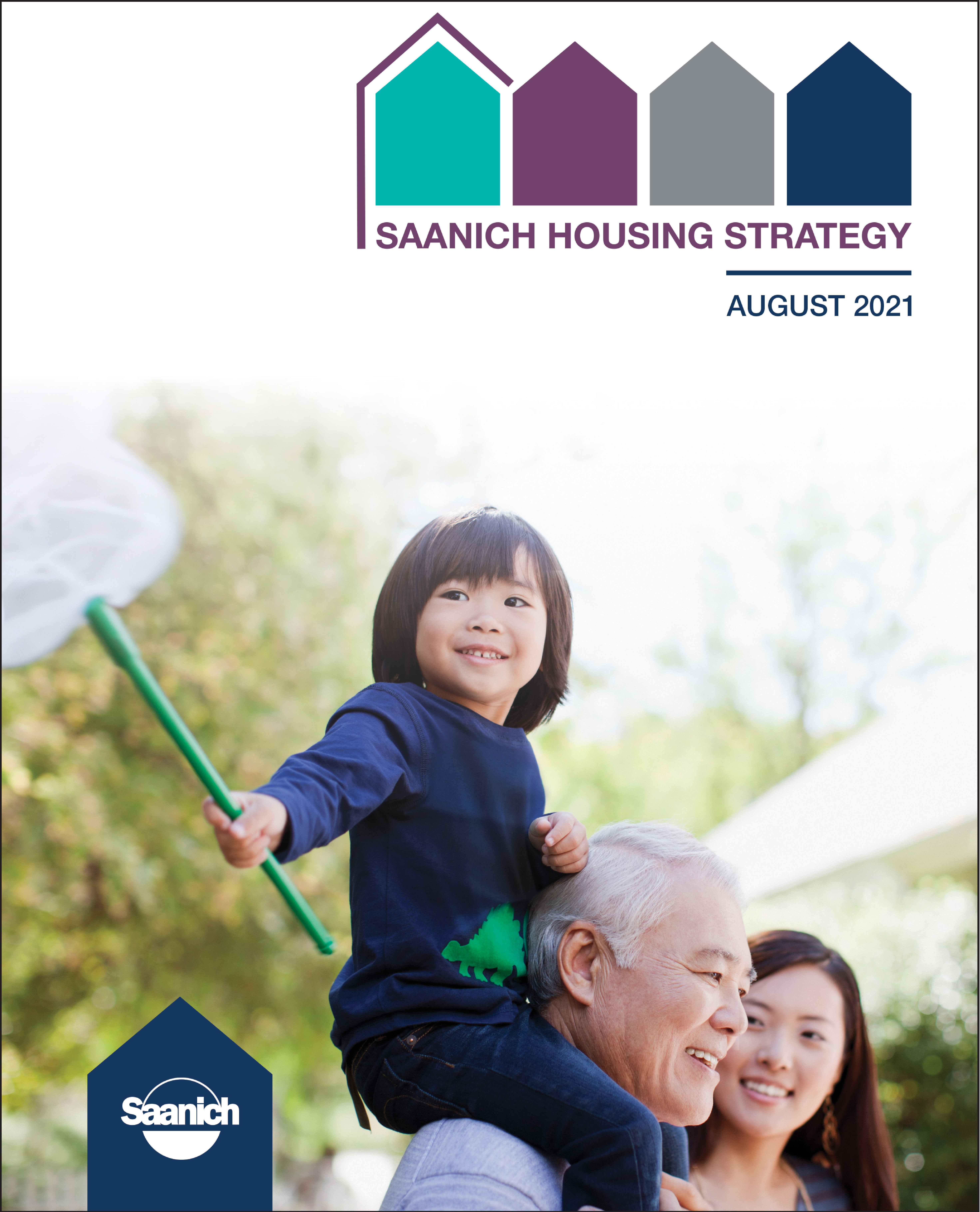 The Strategy identifies 73 immediate, high, medium and low priority actions to address areas of greatest housing needs. While a number of actions have been initiated already, Council's decision ensures sustained funding to make continued progress on tackling vital community priorities.
Significant actions to be initiated in 2022 include:
Missing Middle Housing Program
Land Capacity Analysis
Centre, Corridor and Village Plans
Housing Monitoring and Evaluation Program
Support for Rental Housing
What is a Housing Strategy?
A housing strategy outlines the approach a municipality plans to take in response to the community's unique housing needs. These strategies typically address the full range of housing options from social housing and below-market housing to market rental and home ownership.
Housing strategies are unique to each municipality and local housing strategies differ depending on factors such as local market conditions. Larger municipalities, like Saanich, have the capacity to develop detailed strategies that identify and prioritize multiple policies, initiatives, partnerships, and programs to improve housing.
Understanding Housing Needs
The Saanich Housing Needs Report (2020) identifies key community housing issues and projected demand and served as a vital tool to inform the development of the Housing Strategy. Working towards a diverse and affordable housing supply is also an important foundation for supporting growth and responding to changes in population and housing trends.
Housing Spectrum
The housing spectrum is a visual reference used to categorize and describe the full range of temporary, non-market and market housing types from emergency shelters to homeownership.
Increasingly complex housing issues impact a wide range of household structures, ages, and incomes. In Saanich, housing affordability challenges are evident with 40% of renters and 17% of homeowners paying more than 30% of their income on housing costs. Affordability has been impacted by rising housing prices and an insufficient supply of housing to meet current and future needs for adequate, suitable, and affordable housing. Expanding housing choice and affordability, encourages the development of diverse, liveable neighbourhoods near transit and within walking distance of parks, schools, and other amenities.