Rain Cabana-Boucher, Artist in Residence
Artist-in-Community Residency Program
PROJECT: October 15 to November 30, 2021
EXHIBITION at Cedar Hill Main Gallery: October 20 to November 12, 2021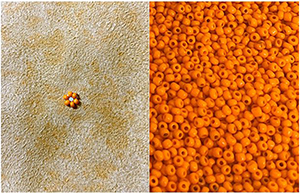 Laying Flowers is a community-engaged, collaborative beading and mural project based in community healing as a response to residential school uncoverings. The goal of this residency is to transform what started as an individual project into a community project, where many hands and communities create and hold daisies in remembrance and honour of the children who have been found, those who will be, and those who will not be found. It is an expression of collective grief and healing for everyone involved.
The beading portion of the residency is focused on Indigenous communities, as it is a part of Indigenous culture and an opportunity to create skill sharing and togetherness. Weekly beading sessions for Indigenous community members will be held at the Victoria Native Friendship Centre. Community members will be beading daisies for each of the grave site discoveries as they are revealed. Each beaded daisy will be added to a section that corresponds to a specific residential school, and then added to the gallery.
Outside of the beading circles at the Friendship Centre, Rain will also be beading in the Gallery at The Arts Centre at Cedar Hill for visitors to witness and connect with her and the project. Any Indigenous community members who would like to bead daisies or learn how to bead can attend the weekly supported beading circles with Rain at VNFC or Cedar Hill. Please contact us for more details.
Rain's aim is to create an inclusive residency, so while the beading portion is reserved for Indigenous community members, she will also facilitate the creation of a corresponding mural panel that will be open to all community members. Community members are invited to contribute to the mural at the Cedar Hill Gallery during times listed below. Some off-site opportunities to contribute to the mural may be available – contact us if you are interested.
A reception/ceremony will be arranged as part of the project (date to be confirmed). Outreach into community for both collaborative aspects of the project begin the week of October 12.
Participate in the Project
Beading Circles take place at the VNFC on Mondays and Thursdays Oct 14 to Nov 8. Registration is required. Contact Brenda Weatherston at brenda.weatherston@saanich.ca.
Beading circle/mural painting takes place at Cedar Hill Gallery Fridays 1-5 p.m. on October 22, 29 and November 5 as well as Saturday October 30 1-5 p.m. Satellite dates for mural painting/beading with groups available upon request.
If you would like more information on the project and how to participate, please contact Brenda Weatherston at brenda.weatherston@saanich.ca or 250 475-5557.
Stay tuned for more details as the project gets underway. We will update this webpage as the project develops.
Learn more about the origins of the Laying Flowers project on the artist's website
A Note from the Artist
Do not be shocked at these findings, as Indigenous people have been saying this for quite some time but have not been listened to. It is also reported in the findings of the Truth and Reconciliation Commission. The news is unsettling, but it is not new information.
The National Indian Residential School Crisis line provides 24/7 support to residential school survivors: 1-866-925-4419
If you're wondering what you can do: donate to initiatives, listen to survivors and communities, educate yourself, start conversations within your social circles, challenge and hold governments accountable.
About the Artist
Rain Cabana-Boucher is a Michif/British settler interdisciplinary artist raised in Saskatoon, Saskatchewan, treaty 6 territory.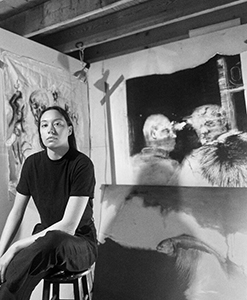 She holds a Bachelor of Fine Arts from the University of Victoria. Rain's practice explores autobiographical themes in relation to place and politics. Rain will be attending PILOTENKUECHE international artist residency as an artist-in-residence in 2022. She is currently living and working on the stolen land of the Songhees, Esquimalt, and W̱SÁNEĆ First Nations.