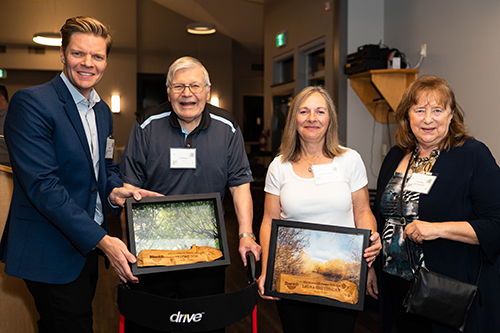 Saanich, BC – Every year, Saanich recognizes individuals for their significant contributions to stewarding the environment. The 2023 Community Stars were announced at the October 19 Volunteer Appreciation Event.
This year's recipients were recognized for ecological restoration and stewardship, ecological protection on private lands, fundraising and community leadership, climate action related leadership, and so much more.
The 2023 Saanich Community Stars recipients include:

Laura Gretzinger
Ted Wilson
"Congratulations to the winners and thank you to their nominators," said Saanich Councillor Judy Brownoff. "Your stewardship makes our community an even greater place."
Ted Wilson
Ted Wilson, a longtime Saanich resident, donated a 1.85 acre property that will be subdivided and used for community enrichment. The southern portion, adjacent to the Galloping Goose Regional Trail, will be developed into a new youth bike skills park over the next few years and the northern portion will be protected as part of Saanich's urban forest.
"It's a pleasure for me to know the property will continue to be enjoyed by generations to come," said Ted Wilson.
Laura Gretzinger
For more than 10 years, Laura Gretzinger has dedicated hundreds of hours to environmental stewardship and community based ecological restoration in Saanich. She has been an exemplary Pulling Together lead steward at Marigold Park and supports other volunteer projects as needed such as at Hyacinth, South Valley and Knockan Hill Parks.
Laura volunteers in Marigold Park every week for several hours, rain or shine, to remove invasive plants and protect the young native plants.
In addition to being honoured at the October 19 Volunteer Appreciation Event, award recipients receive a framed photo and certificate.
- 30 -
Media contact:
Judy Brownoff
Saanich Councillor
judy.brownoff@saanich.ca
250-880-1121