News release
For immediate release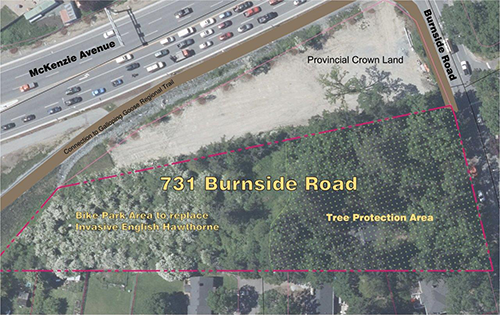 Resident donates land for park use
Saanich, BC – The District of Saanich will receive a 1.85-acre property for park space through a donation from resident Edward (Ted) Wilson.
"This property was purchased by my parents before I was born, and I've lived here my entire life," said property owner Ted Wilson. "It's a pleasure for me to know the property will continue to be enjoyed by generations to come."
Saanich will subdivide the unique property at 731 Burnside West into two parcels. The southern portion, adjacent to the Galloping Goose Regional Trail, will be developed into a new youth bike skills park over the next few years. Staff will put forward a request of approximately $200,000 for Council to consider as part of the 2023 budget process to fund the bike park construction.
The northern portion, a wooded area with second growth forest, will be protected as part of Saanich's urban forest. Saanich will hold this "preservation parcel" in trust and has granted a life estate to Mr. Wilson, so he may continue residing in the existing single-family residence on the property. Once the life estate expires, Saanich will dedicate the parcel as park space, with Mr. Wilson's mother's family name of Wenden incorporated, and preserve its natural state.
"Mr. Wilson has given our community a tremendous and valuable gift of green space that is wonderfully rich in forest and open spaces to encourage active lifestyles", Mayor Fred Haynes. "On behalf of Saanich, I thank him for his generosity and thoughtfulness. His gift adds significantly to our parks and brings real benefit for all our residents with increased recreation opportunities and an enhanced urban forest."
Learn more
More information, including opportunities for public input on the bike skills park, will become available at saanich.ca as the project progresses.
-30-
Media contact:
Eva Riccius
Senior Manager Parks
eva.riccius@saanich.ca
250-475-5522
Please note: Mr. Wilson is not available for media interviews and does not consent to media or the public accessing his residence or the preservation parcel of the property. Thank you for respecting his privacy.