News release
For immediate release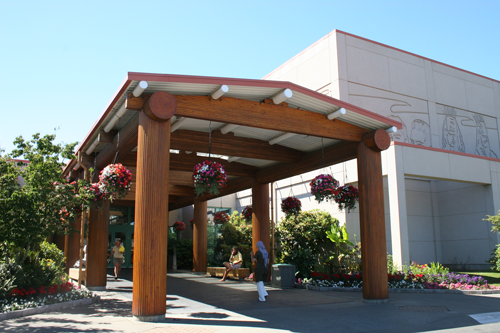 Saanich Commonwealth Place turns to biomass for a renewable fuel source
Saanich, BC – The District of Saanich will begin construction this fall to upgrade the existing natural gas boilers at Saanich Commonwealth Place to new biomass boilers with the goal of reducing the facility's greenhouse gas (GHG) emissions by 90 percent.
SCP is Saanich's largest recreation facility and currently the largest source of GHG emissions for all of the District's facilities. This conversion enables the facility to use renewable fuel instead of fossil fuels.
"This major project is another important and positive step in our journey to reduce our corporate carbon footprint and meet our goal of becoming a 100 per cent renewable community," said Mayor Fred Haynes. "The new heating system will use a locally sourced renewable biomass fuel which will reduce costs, increase efficiency and support our local economy and climate goals."
Set up will begin this summer with construction starting in early September 2022. The new system is anticipated to be in operation by Fall 2023. The project is fully supported by $4 million in Federal Gas Tax Funding which Saanich was awarded in 2018.
What is biomass?
Biomass energy is the creation of heat and/or power from biofuel such as solid wood or wood residues, agricultural crop residues, aquatic plants and animal wastes. As a renewable form of energy, it can help Saanich reduce its carbon footprint and achieve its climate target of becoming a 100 per cent renewable energy community.
BioFlame Briquettes Ltd., located in Chemainus in the Cowichan Valley, was awarded the contract to manufacture Saanich's biomass pucks for the new boilers. The biomass they will supply is a highly efficient woodfibre by-product created from post-industrial milling operations. As such, Saanich has sourced a local supply of renewable biomass fuel that will significantly reduce our corporate carbon footprint while supporting local business and helping pre-consumer and post-consumer industries and markets.
Recreation service interruptions
SCP will be closed to the public temporarily from September 5 to October 10 due to interruptions to basic utilities including electrical power and water during construction. The temporary closure will impact the entire building including the aquatic facilities, weight room and recreation program spaces. Staff are working to find alternate spaces off-site for some of the most popular programs.
This five-week closure period is an extension of the regular annual shutdown period. Other facility maintenance such as structural repairs of the dive tower, re-tiling of the competition pool, LED lighting upgrades, plumbing repairs, electrical maintenance and painting will also take place during the closure.
The closure will not overlap with the current temporary pool closure at Gordon Head Recreation Centre. Patrons may use their Saanich Access Pass to visit one of the other three Saanich Recreation Centres during the closure. Recreation schedules are available at saanich.ca/recreation or you can call the centre before visiting.
Construction timeline
Construction will begin in September 2022 and continue until Fall 2023. Whenever possible, construction will take place between 8 a.m. and 4:30 p.m. Most exterior construction noise will occur from September 6 to October 10.
Learn more
Information about SCP's continued programming is available at saanich.ca/recreation. For updates and information on the project as it progresses, visit saanich.ca and follow Saanich on Facebook and Twitter.
-30-
Media contact:
Megan Catalano
Communications Manager
megan.catalano@saanich.ca
250-475-7639