News release
For immediate release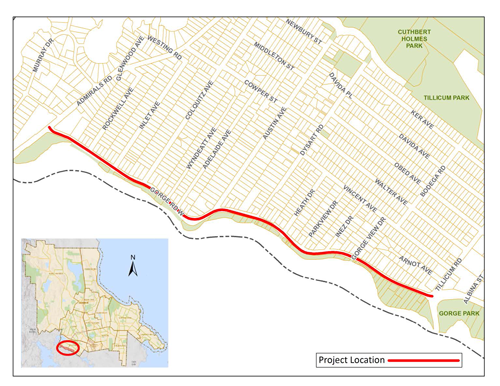 Saanich, BC – The District of Saanich will begin a significant storm drain replacement and active transportation improvement project on Gorge Road West between Admirals Road and Tillicum Road starting in fall, 2022.
"I am delighted to see work begin on these much-needed infrastructure and active transportation improvements," said Mayor Fred Haynes. "This is the first stage of our larger project to extend protected bike lanes the entire length of the Gorge eventually meeting up with the City of Victoria once their side is complete."
Transportation and roadway improvements
A major portion of this project is the installation of a bi-directional protected cycle track on the south side of the road and improvements to the existing pedestrian infrastructure on the north side, as per Saanich's Active Transportation Plan. As part of the bike lane and pedestrian infrastructure installation, improvements to the existing east and west-bound bus stops will also be made.
Storm drainage upgrades
Saanich will replace approximately 1,500 metres of storm drain pipes, eight drainage outfalls to the Gorge waterway and all storm drain house connections to property lines. The existing storm drain pipes have not been updated for many years and are in poor condition.
Project detours, lane closures and property access
Gorge Road will be reduced to single-lane traffic for much of the project duration. The project construction is scheduled to be fourteen months in duration. Businesses along Gorge Road will remain accessible and open for the duration of the project.
Learn more
To find more information about the project please visit saanich.ca./gorgeupgrade.
-30-
Media contact:
Harley Machielse
Director of Engineering
250-475-5447
harley.machielse@saanich.ca