Our 2022 Tree Appreciation Day event is to restore and enhance a former Garry Oak Restoration Project (GORP) site along Mahon Brook, and to increase the number of trees planted on Municipal lands (parks and boulevards) within our neighbourhoods.
This restoration area is located in Colquitz Park, along the trail heading east towards Brydon Park, between Harder Rd and Viewmont Ave.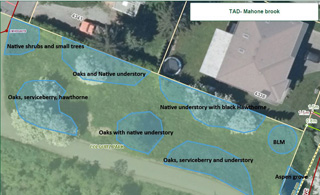 In 2019, Saanich declared a climate emergency and committed to increasing the numbers of trees planted. In support of this, Saanich Parks is engaged in diverse tree planting initiatives to deliver on our strategic goals related to climate action and environmental leadership. This project will assist in meeting the following goals:
Increase the number of trees in Saanich to support a wide range of environmental and community services; and
Engage the community in recognizing and protecting our unique biodiversity and habitat.
For this project we will be planting a variety of trees native to Canada and this region including, but not limited to:
Garry Oak
Big Leaf Maple
Trembling Aspen
Black Hawthorn
Serviceberry
Please contact Saanich Parks at parks@saanich.ca or 250-475-5522 if you would like more information.