Main Floor Gallery & Reception
Alison Baxendale, Outside in
Main Floor Window
Silver Swans Quilters
Second Floor Gallery & Administration
Arabella Young, Into the Natural World
About the Artists and Exhibitions
Alison Baxendale
Alison Baxendale is an artist who endeavours to use the physical landscape as a vehicle to explore and convey emotions or states of being. She is inspired by the beauty of nature discovered in her travels but isn't out to make pretty pictures.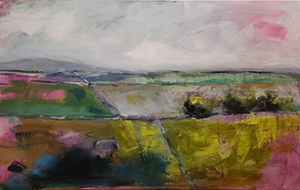 Instead, the works
are gestural expressions investigating features of texture, contrast, layers, and the psychological parallels living amongst them.
Instagram
Contact Alison
Silver Swans Quilters Group
The Silver Swans are a diverse group of 13 fabric artists, crafters and quilters who come together in fun and friendship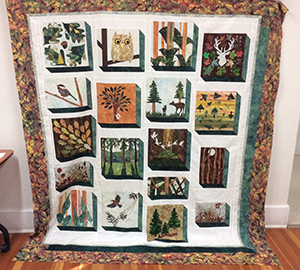 to create fabric art and quilted items for Swan Lake Christmas Hill Nature Society (SLCHNS). Items are sold in the gift shop at Swan Lake and money raised supports the mission of SLCHNS.
Swan Lake Nature Sanctuary Website
Swan Lake Nature Sanctuary Facebook
Arabella Young
Into the Natural World is an exhibition featuring the work of local artist Arabella Young.
The Greater Victoria region includes a vast area of eco-diversity; forests, fields, hills and oceanside, that can be experienced throughout the four seasons. Arabella is drawn to spending time in the natural world, sharing these experiences through colours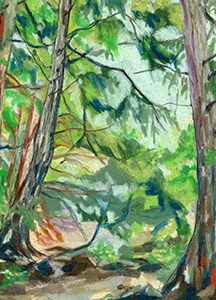 and brush marks. Viewers are invited to share in these visual and emotional perspectives, and to draw upon memories of their own experiences of the natural world.
Arabella Young is a contemporary fine artist, currently living and working in Sidney, BC,
traditional W̱SÁNEĆ territory. Arabella's landscapes capture a glimpse of the natural world, in a style likened to Emily Carr and the Group of Seven. Arabella studies fine arts at the Emily Carr Institute of Art and Design in Vancouver, BC.
Website
Instagram
Facebook
For inquiries related to exhibitions, please contact Brenda Weatherston at brenda.weatherston@saanich.ca 250 475-5557.