The Witness Blanket - Travelling Exhibition
Developed by the Canadian Museum for Human Rights
and Artist Carey Newman
The Witness Blanket is a powerful art installation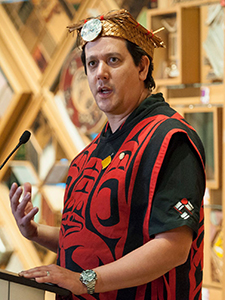 created by master carver Carey Newman to recognize the atrocities of the residential school era, honour the children and symbolize ongoing reconciliation.
Inspired by a woven blanket, the original cedar‐framed artwork is made of hundreds of items from Indian residential schools, Survivors, churches, governments and other cultural sites across Canada. Each item tells a story of loss, strength, resilience and pride.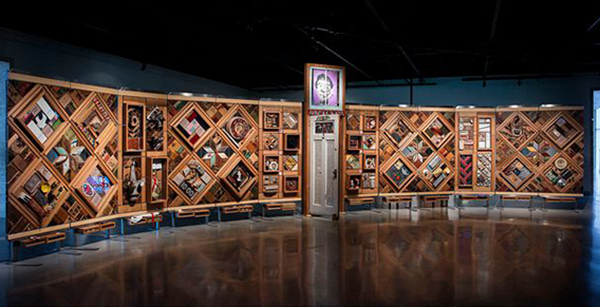 The Witness Blanket is currently undergoing conservation at the Canadian Museum for Human Rights (CMHR). This true‐to‐scale reproduction has been created and is touring other venues, allowing its stories and messages to continue being shared.
The exhibition will be open to the public during facility hours, closures listed in the Schedule below. Indigenous families and organizations are invited to schedule private viewings of the exhibition. Schools and community groups (e.g. over 10 people) are asked to pre-book visits to help plan for the accommodation of larger groups. Contact Brenda Weatherston, Community Arts Programmer, at brenda.weatherston@saanich.ca or 250-475-5557 for more information and to schedule group bookings.
Find out more about The Witness Blanket
Watch "Picking up the Pieces: The Making of the Witness Blanket" documentary film (1 hr 23 min).
Download the App(IOS): Witness Blanket
Witness Blanket Evening Events with Artist Carey Newman:
Monday, November 22 & Monday, December 6, 7:00 to 9:30 pm
*Proof of Vaccination is required for these events*
Meet The Artist. Visit the exhibition and watch a screening of the documentary film, "Picking up the Pieces: The Making of the Witness Blanket" (1 hour, 23 minutes – 7:30-9:00pm) at Cedar Hill on these evenings.
*LIMITED SPACES FOR FILM SCREENING, MUST PRE-REGISTER*
To Register for the film screening, call or visit Cedar Hill Recreation Centre or register online using the registration numbers below:

Monday, November 22, 7:30-9:30pm. Registration #74297
Monday December 6, 7:30-9:30pm. Registration #74298
No registration required to visit the exhibits on these "meet the artist" evenings, but proof of vaccination will be required.
Witness Blanket Travelling Exhibition Schedule

Date

Facility Hours

Morning
Closures

Afternoon Closures

Evening Closures

Mon
Dec 6
6:30am- 10:00pm
Closed:
9:00-10:00
Closed:
1:30-2:30
Closed:
7:00-10:00
Tue
Dec 7
6:30am- 10:00pm
Closed:
11:00-12:00
Closed:
1:00-2:45
Wed
Dec 8
6:30am- 10:00pm

Closed:
10:00-11:30



11:30-12:00

Closed:
4:30-5:30
Thu
Dec 9
6:30am- 10:00pm
Closed:
9:30-10:30
Closed:
11:00-1:00
1:00-1:45
1:45-2:30
Closed:
4:00-5:00
Fri
Dec 10
6:30am- 10:00pm

Closed:
8:45-9:30
9:30-10:45

Sat
Dec 11
8:00am- 9:00pm
Sun
Dec 12
8:00am- 9:00pm
The exhibit and film share traumatic stories of Indian residential school survivors. If you or someone you know has a history with residential schools and is triggered by the content and in need of support, the following is a list of some of the supports available:
National Centre for Truth and Reconciliation
Helpline for residential school survivors: 1-866-925-4419
Website
Indian Residential Schools Resolution Health Support Program
Provides emotional, cultural and professional support services to survivors and their families. Services can be accessed on an individual, family or group basis from their website
or call 1-877-477-0775.
Tsow-Tun Le Lum Society
Provide a toll free line for Indigenous people in crisis or needing support. Call: 1-888-403-3123. For more info:
Facebook page
Website