"Coastal Reflections"
Karen Guilbault
December 7, 2022 to January 8, 2023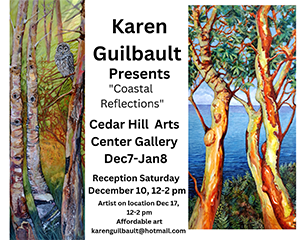 Artist Reception: Saturday, December 10
12:00 to 2:00 p.m.
Artist in Attendance Saturday, December 17 12:00 to 2:00 p.m.
Karen Guilbault presents a west coast themed series of paintings, sourced from her daily paddling experiences. Karen enjoys painting wildlife in semi-abstract backgrounds, such as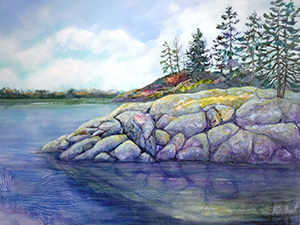 her zentangle series of 6x8" paintings with decorated borders.
She is fascinated
by cloud and water patterns and has been developing her skills with these landscape subjects
in larger sizes.
She is a member of the Gage Gallery artist's collective in Bastion Square Victoria, where she also shows her work on an ongoing basis.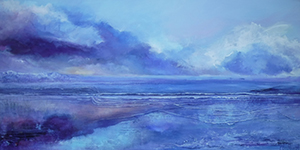 Accessibility: Accessible washrooms, Wheelchair access, Designated handyDART loading zone and disabled parking stalls.
For inquiries related to exhibitions, please contact Brenda Weatherston at brenda.weatherston@saanich.ca 250 475-5557.