News release
For immediate release
Saanich volunteers celebrate 13th Intergenerational Day Canada
Saanich, BC – Members of the Saanich Pulling Together volunteer program are celebrating Intergenerational Day with a fun activity connecting young and old.
Volunteers from the Feltham Park Pulling Together team will be engaging with Braefoot Elementary School students in their ecological restoration project.
Feltham Park volunteers meet for occasional work parties with the vital goal of enhancing native biodiversity by controlling invasive species such as English Ivy, and replanting with native plants such as Fringecup. This small group of volunteers is always looking for more helping hands!
Pulling Together
Volunteers nurture a sense of place in students by sharing knowledge about nature and supporting hands on ecological restoration work in Saanich Parks. Students reciprocate by sharing their keen sense of learning, and enthusiasm with volunteers – plus they help pull weeds!
This relationship fosters vital connections that inspire action to protect the environment.
Not only do participants pull together, but they also learn together too. Knowledge is often passed on in surprising and unexpected ways.
"Working with young students to remove a variety of invasive plants from the park near my home is inspiring! Their questions and energy reassure me that all is not lost in the fight to reclaim our environment from the mistakes of the past generations. With their enthusiasm and growing knowledge of our environment and ecosystems, there is every reason to look positively toward the future," said Robbi Birch, a volunteer with the Feltham Park Pulling Together team.
Pulling Together volunteers work together to remove invasive species, plant native trees and shrubs, improve wildlife habitat, plan and monitor the progress of ecological restoration work, and educate others about parks, invasive species and ecological restoration.
Did you know?
Intergenerational Day is June 1 and was started by a group of students from Newfoundland, Quebec, Ontario, Manitoba and British Columba in 2010;
Intergenerational Day is a celebration of interaction, social solidarity, and empathy;
Pulling Together volunteers are multi-generational community members from preschool age to older adults, and every age and stage in between. The ecological restoration work they do reinvigorates cultural and emotional connections to the land and makes space for meaningful, reciprocal relationships between people and nature;
Saanich has teams of volunteers in more than 45 different parks and natural areas;
The program has been in place since 1999;
To learn more about the Pulling Together volunteer program, visit our website.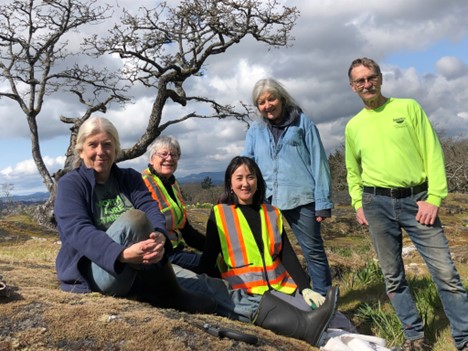 - 30 -
Media contact:
Alix Link
Manager of Urban Forestry, Natural Areas, and Community Stewardship
Parks Division
District of Saanich
t. 250-475-5494 ext. 5544
alix.link@saanich.ca