News release
For immediate release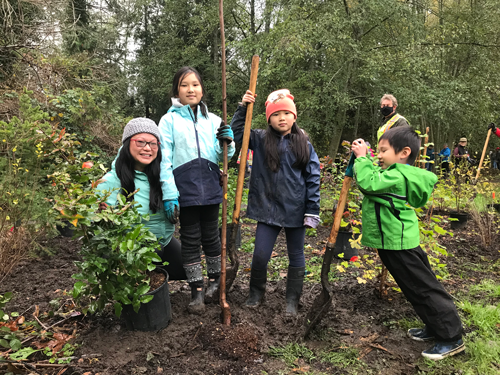 Saanich, BC – Following up on successful programs in fall 2021 and spring 2022, the Online Climate Action Workshop Series will be offered again for Saanich residents this fall. The series will take place on MS Teams on Tuesday evenings from 7 to 8 p.m. from September 20 to November 1, 2022.
This free online workshop series about climate change shares big ideas and practical actions in your community. Learn from Saanich staff and expert guests about ways to make your transportation, home, yard, and purchases more resilient and climate-friendly. Participants also learn about different tools and rebates available to support you.
Workshop series topics
Saanich Climate Action 101: an introduction to preparing your own Climate Action Plan.
Lighter Living: tips and local resources, success stories, and ways to get involved in reducing your climate impact with your purchasing choices for food, clothing, consumer goods, and more.
Naturescape for climate resilience and biodiversity in your yard: Naturescaping can save you money and time, add greater enjoyment and inspiration to your gardening, and increase climate resilience and ecosystem services.
Active and public transportation: Learn about what Saanich is doing to support active transportation, e-bikes, bike skills courses, and public transit.
Electric vehicles and charging: Learn all about electric vehicles and charging, including incentives and planning support for charging at work, in your condo building or single family home, and road trips, and what switching from fossil fuel to electric vehicles can do for you and the climate.
Climate-friendly home renovations: Heat pumps are the most efficient and climate-friendly heating and cooling system on the market. Learn what a heat pump is, the benefits of heat pumps, and what rebates, financing offers and supports are available to help you upgrade your home.
Emergency preparedness: Learn how climate change is impacting the risk of some hazards and the resources Saanich offers to help you prepare.
Given the positive feedback from past participants, this is the third time the workshop series is being offered. Also, as a result of participant feedback, a new session has been added to the series to answer more of your questions about sustainable transportation options.
Feedback received from the spring 2022 series:
Definitely offer again!! (smile) Thought it was really great and would definitely recommend to others!
Thank you so much for the AWESOME webinar series. I've been telling ALL my friends and associates and looking through the links and the presentations you've been sharing each week.
No surprise that your work has earned awards! Thank you. Repeat the course!
Following the series, participants will have a deeper understanding of current climate action underway in Saanich and will leave with a personal, prioritized climate action plan.
Learn more
To find out more about the Climate Action Workshop Series and to register, please visit saanich.ca/sustainability.
-30-
Media contact:
Erika Schade
Communications Manager
erika.schade@saanich.ca
250-812-0952