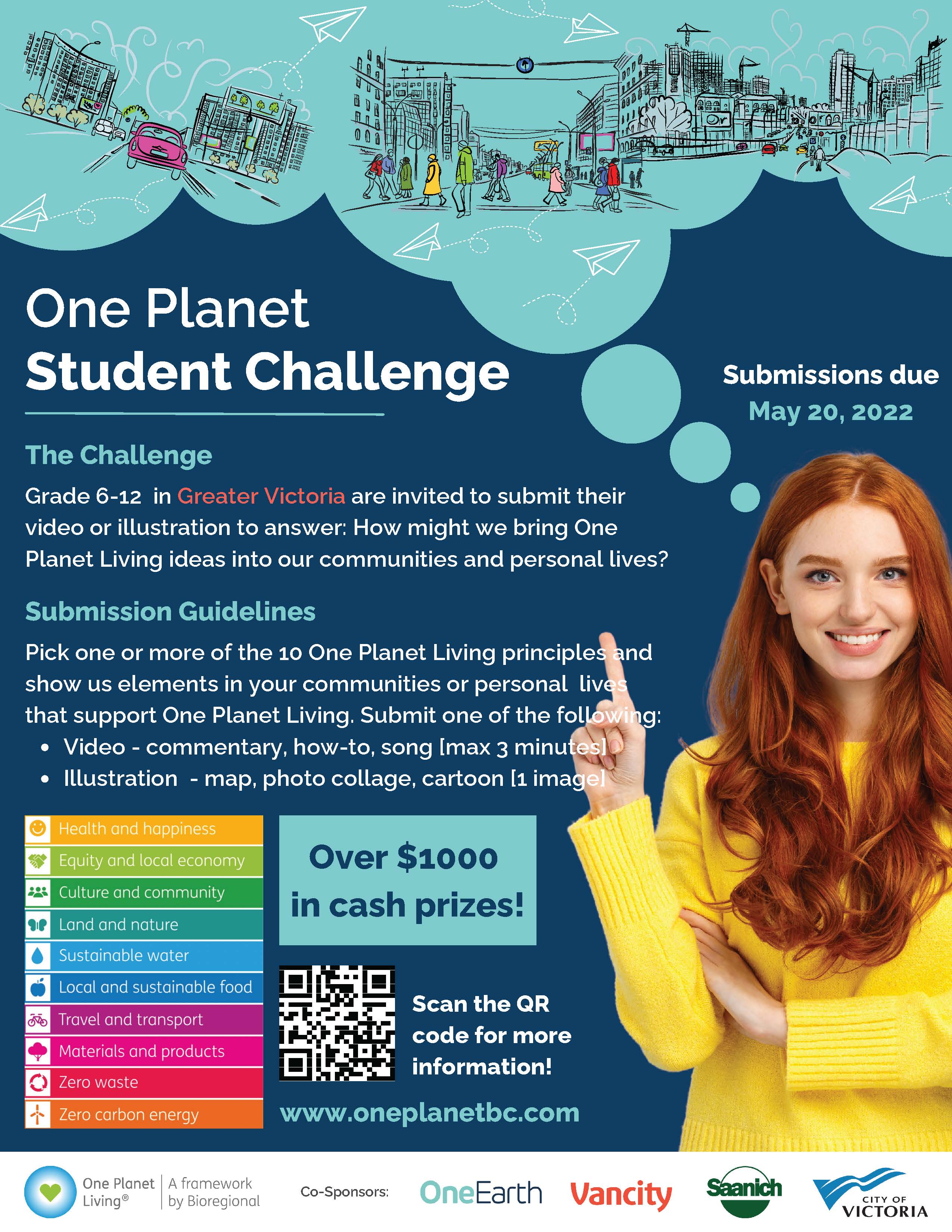 Greater Victoria, BC – A new student challenge is encouraging Greater Victoria students to share their ideas about how we can all bring sustainable One Planet Living ideas into our communities and personal lives.
The One Planet Living Student Challenge is welcoming all grade 6-12 students in Greater Victoria to enter video and illustration submissions. In their submissions, students will share their ideas about:
What they are already doing in their personal lives to advance sustainable ways of living – for example, they could create an instructional video of an item (e.g., clothing/bike/recycled wallet) that they have repaired or repurposed to reduce waste.
Steps we can all take to make our communities more sustainable – for example, through a vid-eo, artwork or map showing how we can make it easier to travel around by bike or foot in our neighbourhoods.
These are just a few ideas of what we are looking forward to hearing from students in Greater Victoria.
Student submissions will be accepted until May 20, 2022.
Winners will receive cash prizes – with $1,200 total prize money available and submissions will be judged on creativity, engagement, illumination and alignment with One Planet Living. Winners will be showcased on the One Planet BC website – www.oneplanetbc.com and can then participate in our Earth Day celebration event.
This One Planet BC contest is hosted by non-profit OneEarth in partnership with the District of Saanich and with support of the City of Victoria. It builds from the successes of One Planet Saanich, where lo-cal schools, businesses and organisations take action together to advance 'One Planet Living'. To see what local students and schools – including Artemis Place School, Claremont Secondary, Colquitz Middle School, Mount Douglas Secondary, Royal Oak Middle School, and Reynolds Secondary - are already doing to advance One Planet Living in our communities, see their action plans on the One Planet BC website – www.oneplanetbc.com.
Cora Hallsworth, lead for One Planet BC is excited to be launching this program, and says:
"BC's growing One Planet Living community inspires and motivates me. Our network is advancing sustainable living in ways that we could never achieve alone. Partnerships between the municipali-ty, community builders, businesses and schools are uniting us around a vision of sustainability and focusing us on critical actions that will get us to healthy, equitable and sustainable one planet living. The One Planet Student Challenge will provide a meaningful way for students to share their ideas and vision about how we can bring sustainability into our communities and personal lives."
District of Saanich Mayor Fred Haynes is thrilled to see the One Planet Student Challenge kick off, saying:
"I'm very excited to see this opportunity for our young folks in Saanich to help guide us for our One Planet initiatives. Looking forward to the great ideas."
Rebecca Newlove, Sustainability Manager at the District of Saanich is pleased to be supporting the One Planet Student Challenge, saying:
"One Planet Saanich schools have become leaders in our community as we work towards achieving our climate action objectives and our overarching aim to become a 'One Planet Living' Community. Our Climate Plan acknowledges that our collective success requires action from everyone in our community. The One Planet Student Challenge will shine a light on the ideas our youth have for a sustainable future."
For full contest details and to learn more visit: www.oneplanetbc.com/one-planet-student-challenge/

For more information or to schedule interviews, contact: