Information bulletin
Gordon Head Ave Sidewalk Improvements – Midgard Avenue
Gordon Head Road was identified in the Safe Routes to School Program, the Active Transportation Plan, and the Official Community Plan as needing improvements to its existing active transportation networks.
The full project includes providing 2.0 m wide concrete sidewalk behind existing concrete curb on the west side of Gordon Head Road between 3912 Gordon Head Road and Midgard Ave, accessible corner ramps at each of the 4 intersections along the project on Gordon Head Road, and a raised cycling/pedestrian crossing at Midgard connecting to the University of Victoria West Campus Greenway.
This crossing at Midgard is nearing completion, and has been well received by the community. We look forward to completing the remainder of the project soon.
Visit saanich.ca and follow Saanich on Facebook and Twitter for updated information.
More information
Engineering Department
engineering@saanich.ca
250-475-5575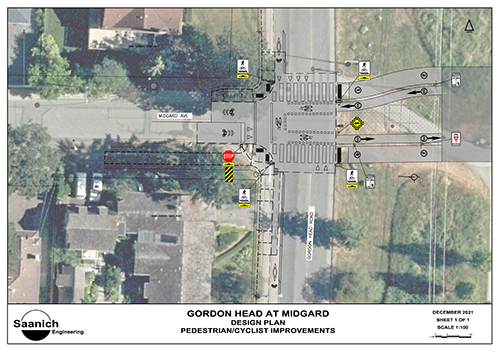 Gordon Head Road sidewalk improvements – Gordon Head Road and Midgard Avenue.