Media release
For immediate release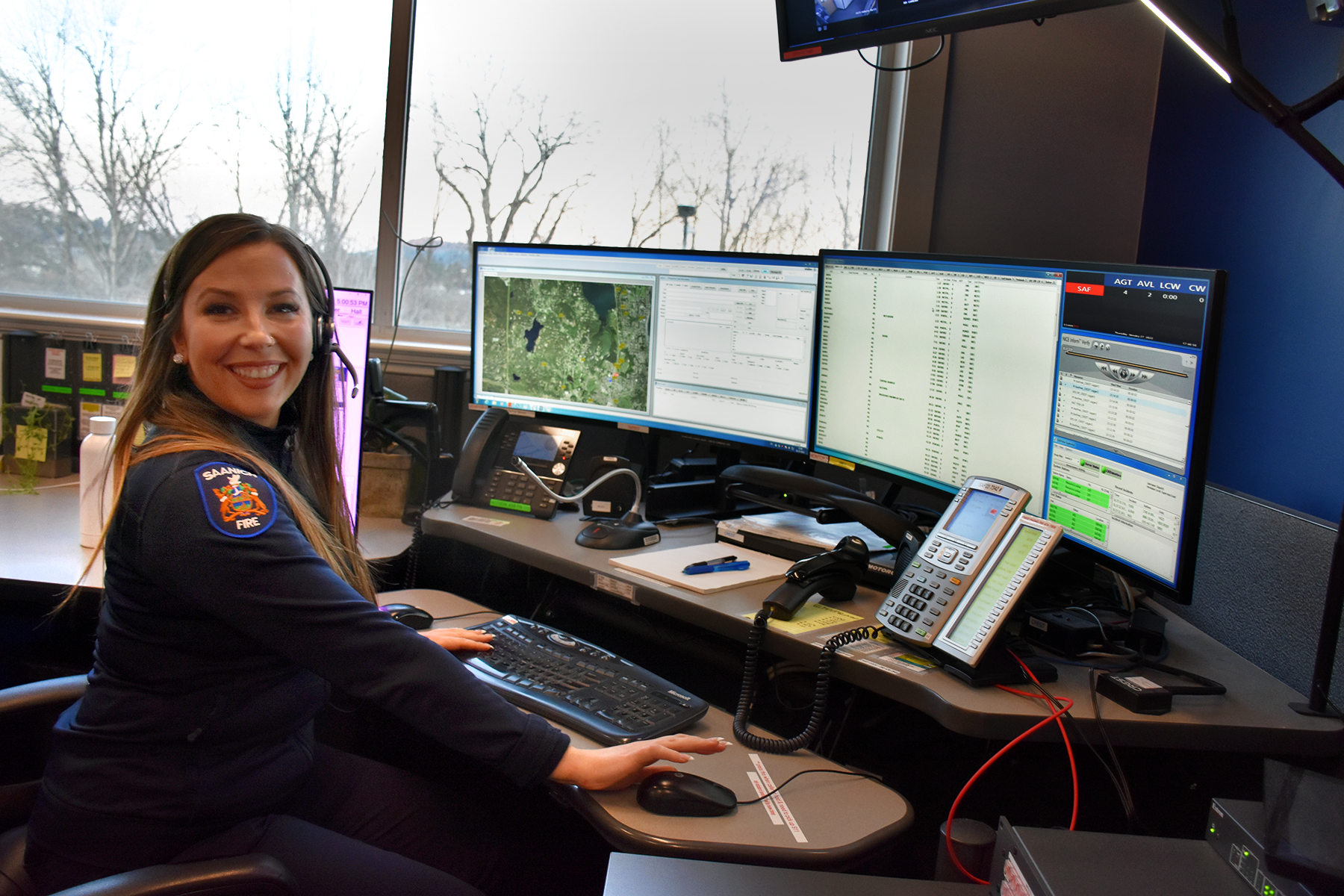 Emergency Service Dispatchers and 9-1-1 Awareness Week
Saanich, BC – In recognition of Emergency Service Dispatcher and 9-1-1 Awareness Week, April 10-16, Saanich Fire Department acknowledges the dedicated service and professionalism of our dispatchers. Along with the Legislative Assembly of British Columbia and BC Place, Saanich Municipal Hall will light up red and blue on Tuesday, April 12, 2022.
"This is a very important week in our industry as we recognize the valuable work our dispatchers do in ensuring responder and public safety," said Fire Chief Michael Burgess. "We want to remind people that our professional dispatchers are available 24 hours a day, 365 days a year supporting the communities they serve."
In 2021, Saanich Fire Dispatch welcomed 15 regional departments to our dispatch service. "Our regional approach to fire dispatch services is a great example of how, by working together, we are providing cost effective service delivery and supporting a shared approach to enable access to dispatch technology and support systems to our partners," says Burgess. Saanich Fire dispatchers have a combined 130 years' experience in the fire service. Our dispatchers are highly trained, dedicated professionals who are often the first point of contact for citizens in need of help. Simply put, dispatch sets up fire crews for success when they respond to emergencies and are an integral part of public and responder safety.
In addition to this, it is a great opportunity to share tips for our residents should they need to call 9-1-1. This year we would like to emphasize knowing the two parts to your address. House number + street name = address. Knowing the exact location of an emergency is very important to lead responders to the scene.
Tips:
Saanich Fire Dispatch is offering the following 9-1-1 tips:
Make Yourself a Good Caller: Stay on the line and do not hang up until the Dispatcher tells you it is okay to do so. They may need to ask additional questions regarding the emergency.
Parents teach your kids: 9-1-1 is to be used for emergencies only.
Unintentional dials happen: That's ok! If you unintentionally call 9-1-1, stay on the line
Find more information visit saanich.ca or on Twitter @SaanichFire.
-30-
Media contact:
Trevor Stubbings, Assistant Deputy Fire Chief
Saanich Fire Department
250-475-5503
fireadmin@saanich.ca