News release
For immediate release
Saanich Police Board Announces Dean Duthie as New Chief Constable
Saanich, BC - The Saanich Police Board is proud to announce that Deputy Chief Constable Dean Duthie has been identified for promotion to become the 18th Chief Constable for the Saanich Police Department.
Duthie will assume the position on February 1, 2022, when current Chief Constable Scott Green is set to retire after more than thirty-three years of service with the Department.
In addition, Inspector Robert Warren has been identified for promotion to Deputy Chief Constable, which will also come into effect on February 1, 2022.
The Board made both decisions after engaging in a thorough and competitive process to select the next Chief Constable. "Through this process it was very clear to us that there are highly qualified, competent, and committed candidates within the organization to promote to Chief Constable, and, as a result, we also made the decision to promote one of the candidates to the position of Deputy Chief Constable," said Mayor Fred Haynes, Chair of the Saanich Police Board.
Dean Duthie began his career in policing with the Saanich Police Department twenty-six years ago. Since that time, he has advanced through the ranks gaining experience in a wide range of police operations, investigations, administration, and management, becoming Acting Deputy Chief in 2019 and Deputy Chief in 2020. Dean holds a Bachelor of Arts Degree in Criminal Justice Studies from the University of the Fraser Valley and a Master of Education Degree in Leadership Studies from the University of Victoria.
"I am truly honoured to serve in the role of Chief Constable and look forward to leading in an emotionally intelligent, transformational, accountable, and inclusive manner as we continuously strive to improve, adapt, and grow while guided by our code of ethics, values, professionalism, and integrity," said Dean Duthie.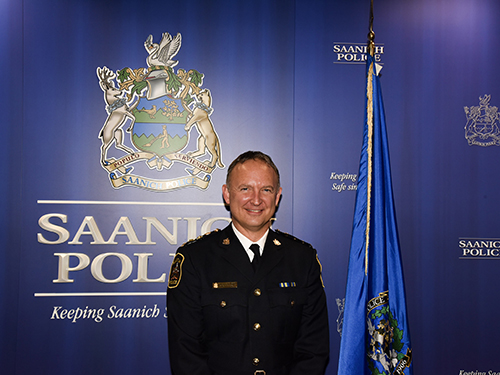 -30-
Media contact:
Cst. Markus Anastasiades
Public Information and Communications Officer
media@saanichpolice.ca