News Release
For Immediate Release
Saanich honours fallen firefighters on Firefighters' National Memorial Day
Saanich, BC – The second Sunday in September of each year is Firefighters' National Memorial Day, a day designated to recognize the dangers firefighters often face when carrying out their duties, and the ultimate sacrifice of firefighters who have given their lives in the line of duty.
It was only fitting that Fire Department members gathered on Sunday, September 13 to dedicate a new commemorative plaza and memorial wall at Fire Station No. 1. At the dedication ceremony, Fire Chief Michael Burgess, Mayor Fred Haynes and Brian Catinus, International Association of Fire Fighters Local 967 President, paid tribute to three Saanich Fire Department members who died in the line of duty:
Lieutenant Thomas Williams Jennings who joined the Department in 1942 and died on Christmas Day in 1968 as a result of a heart attack while on duty and working at a structure fire at the age of 54
Firefighter Hugh Stanley Taylor who joined the Department in 1976 and died as a result of occupational related cancer in 1994 at the age of 43
Captain Dann Marchessault who joined the Department in 1973 and died as a result of occupational related cancer in 2014 at the age of 62
"The loss of these members at such early ages reminds us all that firefighting that keeps us safe is a dangerous profession, as well as the importance of firefighter safety, health and wellness," said Mayor Fred Haynes. "I'm honoured to be here today to recognize the incredible selflessness, courage and expertise firefighters demonstrate every day, and thank them for their commitment and service to our community."
"We stand here united in our commitment to ensure members of the Saanich Fire Department are provided with nothing but the best in terms of personal protective equipment, that our occupational health and safety programs and standards exceed industry best practices, that our members are supported compassionately and have immediate access to counseling and support services when needed, and that they can come to work each and every day and be safe and be able to go home to their families and loved ones at the end of the day," said Fire Chief Michael Burgess.
Quick Facts:
Firefighters' National Memorial Day was established in 2017 by the Minister of Public Safety and Emergency Preparedness as a tribute to the firefighters who risk their lives to keep Canadians safe.
According to the Canadian Fallen Firefighters Foundation, over 1,300 firefighters died in the line of duty since 1848.
Research by the CDC/National Institute for Occupational Health and Safety (NIOSH) have found that firefighters are at a greater risk of cancer, due to smoke and hazardous chemicals they are exposed to in their work. Firefighters face a 9 percent increase in cancer diagnoses, and a 14 percent increase in cancer-related deaths compared to the general population, and firefighters are twice as likely as the general public to experience PTSD.
Links:
-30-
Media contact:
Michael Burgess, Fire Chief
Saanich Fire Department
250-475-5503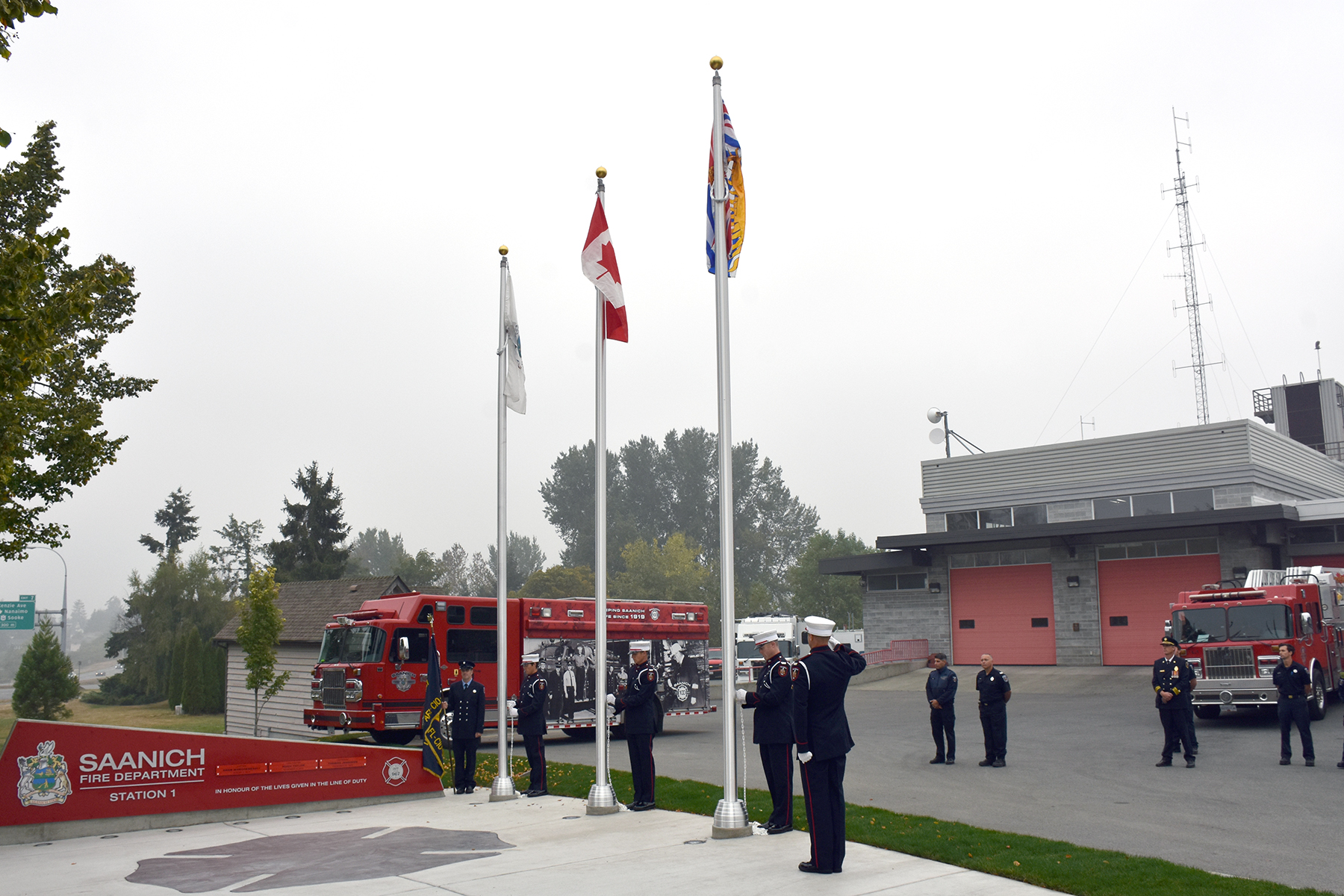 Photo credit: Saanich Fire Department.