News release
For immediate release
Saanich honours fire fighters for their service
Saanich, BC – The 20 fire fighters who were recognized at an annual ceremony on November 7 share a commitment to service and passion for the community.
"Saanich Fire is an integral part of our municipality and the region," said Mayor Fred Haynes. "I'm thrilled to honour these talented and dedicated men and women and celebrate their service."
This year, five new members were welcomed to the department by Mayor Fred Haynes and Fire Chief Michael Burgess. Service medals and service bars were also presented to current Saanich Fire members, and retired members were commended for their service, loyalty and leadership.
"The fire fighters that were honoured make a lasting impact on the lives of our residents every day and they deserve to be recognized for the legacy that they are building in our community," said Chief Michael Burgess. "This is a very special way to round out our centennial year. Not only is our fire department celebrating 100 years of service, today we are celebrating a combined 500 years of service from these members."
The awards included:
20 Year Canadian Fire Services Exemplary Service Medals (10)
25 Year Provincial Long Service Medals (8)
30 Year Canadian Fire Services Exemplary Service Bars (4)
New member recognition (5)
Retired member recognition (3)
Quick facts:
The Fire Services Exemplary Service Medal was created in 1985 to honour members of a recognized Canadian fire service who have completed 20 years of service. Exemplary service is characterized by good conduct, industry and efficiency and the award is made to tangibly express national gratitude for long and commendable service.
The 25 Year Provincial Long Service Medal recognizes the dedication and selflessness with which members have served their community and the Province of British Columbia in the protection of life and property.
The 30 Year Fire Services Exemplary Service Bar recognizes members who have completed 30 years of service and is represented by a 10 year service bar placed on the 20 Year Fire Services Exemplary Service Medal.
Read more in the backgrounder.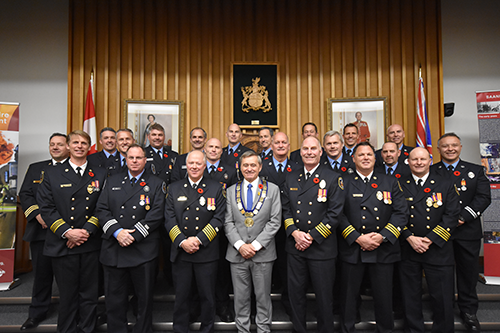 Photo: credit to Saanich Fire Department
Back Row L-R: Fire Fighter Craig Ford, Platoon Captain Mitch Williams, Captain Norm Westhaver, Captain Greg Rangel, Captain Ron Benedict, Captain Jerry Tomljenovic, Fire Fighter Aaron Charlton, Captain Douglas Larson
Middle Row L-R: Assistant Chief Jonathan Evans, Captain Mark Visscher, Captain Darwin Schellenberg, Captain Kevin Cleaver (retired), Platoon Captain Dave Elder, Fire Fighter John Musgrave, Captain Konstantine Niketas
Front Row L-R: Assistant Deputy Chief Michael Kaye, Platoon Captain James Crighton, Fire Chief Michael Burgess, Mayor Fred Haynes, Deputy Chief Dan Wood, Assistant Chief Rich Pala (retired), Deputy Chief Frank Macdonald
-30-
Media contact:
Brock Henson, Assistant Deputy Chief
Saanich Fire Department
250-475-7153