Main Floor Gallery
Kate Brooks-Heinmann
Main Floor Window
Susan Turnbull-Caton, On a Wing
Second Floor Gallery & Administration
Roy Benard, Explorations in Nature and Landscape
About the Artists and Exhibitions
Kate Brooks-Heinimann
Kate Brooks-Heinimann is an artist and art educator based on Lekwungen Territory. Kate teaches art at McTavish Academy and in School District 61. Since 2016, her work has been exhibited throughout British Columbia and Alberta and she has completed multiple artwork commissions within Canada and the United States. Kate was awarded scholarships to Parks Canada's Art in the Park Artist Residency, and the Metchosin International Summer School of the Arts Mentored Studio Residency. She received her Bachelor of Fine Arts from Emily Carr University of Art and Design and previously completed her Certificate of Visual Arts at the Vancouver Island School of Art.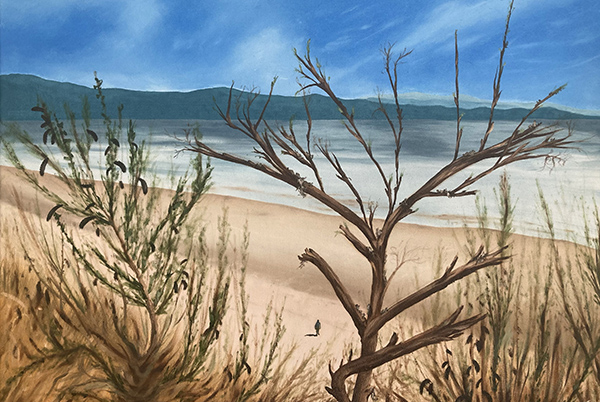 Kate's work is influenced by a deep affection for learning about nature, and a desire to share her discoveries with others through painting. When not in her studio or teaching art, Kate spends her time growing a garden and exploring wilderness spaces.
Website
Instagram
Susan Turnbull-Caton
The key source of inspiration for my wall hangings, cushions and three-dimensional objects are textiles in their various forms. I use a wide assortment of new and recycled fabrics such as silks, wools and cottons in non-traditional combinations that are sourced from global and local markets. The works incorporate a variety of techniques such as appliqué, piecing, decorative stitching and beading.
Recently retired, I worked in the world of fabrics for over 40 years as a professor of textiles and clothing in New Brunswick, Manitoba and B.C. Returning home to Victoria twenty years ago, I have been influenced by west coast and Canadian historical, geographical and cultural elements: my work reflects these fundamental images producing distinctive designs for contemporary interiors.
This collection, Flying on Wings , is a reflection on our current circumstances and an overwhelming need to fly away from it all.
Roy Benard
Roy Benard, 69 years young, is a retired Project Manager in construction, now artist, living between Victoria and Costa Rica.
"I have always been into art and artistic photography as well
as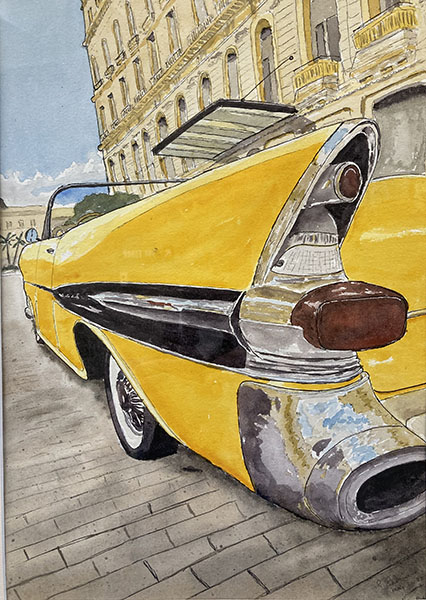 sculpture. Now that I am retired,
I have ramped up my learning of the challenging watercolour painting techniques. I have had various teachers in Victoria who have helped me on my journey over the last 10 years. A fair amount of my art is done from my own photography. I love old cars, old architecture , brids and especially flying birds. COVID lockdowns really pushed me into do so much more with art as I had the time being unable to go out dancing and enjoying music in the evenings."