Main Floor Gallery & Reception
Linda Stagg, Seen Around the Southern Island
Main Floor Window (until July 20)
Victoria Quilters Guild, City of Gardens
Quilt Show and Sale Preview Exhibit
Second Floor Gallery & Administration
Lucille Proulx. Potpourri
About the Artists and Exhibitions
Linda Stagg
Linda began painting classes with art instructor Nicholas Pearce. Linda's style is representational, although she calls it "needlework."
Her favourite subjects are birds and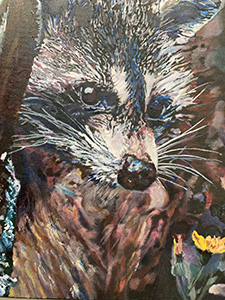 other wildlife, water, marine scenes and aircraft. She and her husband are volunteers at the British Columbia Aviation Museum. She has donated paintings to fundraisers for refugee support and environmental organizations.
Facebook
Twitter
Victoria Quilters Guild
The Victoria Quilters' Guild welcomes quilters on beautiful
Vancouver Island BC, Canada. Founded in 1980, the Guild currently has a membership of approximately 300 members.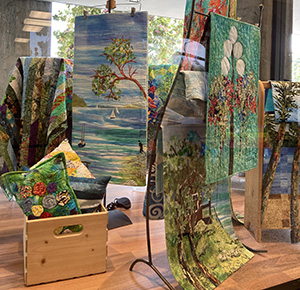 They host internationally known presenters and teachers, a huge library, a very active charitable quilts program, and a biennial quilt show featuring members' work.
The City of Gardens Quilt Show and Sale takes place at Pearkes Recreation Centre in Saanich August 5-7, 2022.
Website
Facebook: City of Gardens Quilt Show & Sale
Facebook: Victoria Quilters Guild Group
Lucille Proulx
POTPOURRI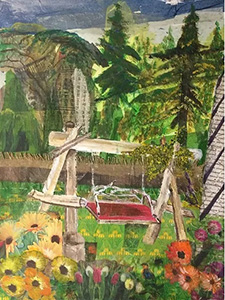 Potpourri is a medley of art subjects, and media, that portrays this 90-year-old Saanich Resident's energy and love of life and art. This exhibition is a glimpse into her life's journeys between 1981—2021 as a mother, grand and great grandmother, artist, author, and art therapist.
Website