Laying Flowers
Rain Cabana-Boucher, Artist-in-Residence
Artist-in-Community Residency Program
PROJECT: October 15 to November 30, 2021
EXHIBITION at Cedar Hill Main Gallery:
October 20 to November 12, 2021
Laying Flowers is a community-engaged, collaborative beading and mural project based in community healing as a response to residential school uncoverings. The goal of this residency is to transform what started as an individual project into a community project, where many hands and communities create and hold daisies in remembrance and honour of the children who have been found, those who will be, and those who will not be found. It is an expression of collective grief and healing for everyone involved. The project and exhibit runs at Cedar Hill Main Gallery and the Victoria Native Friendship Centre (VNFC) through November 14.
As part of the project, the artist is hosting beading circles for Indigenous community members at the Victoria Native Friendship Centre and the Cedar Hill Gallery.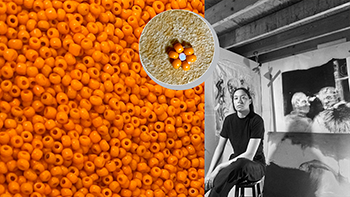 The artist is also facilitating the creation of a corresponding painted mural panel open to
all community members to contribute to during the hours she is present in the gallery.
The gallery is open for viewing the evolving exhibition during
Cedar Hill Facility Hours.
Find out more about the project, the artist, and how and when you can participate by visiting the project webpage: saanich.ca/layingflowers