"Collapsus - Falling Together"
Marcia Semenoff
January 9 to February 5 2023

Artist Reception:
Friday January 13 from 6:30 to 8:30 pm
Artist in Attendance:
Tuesday, January 25 from 11:00am - 1:00pm
and Sunday, January 29 from 12:00 - 3:00pm
While artist in gallery, nest making activity and monotype demos available. All ages, all supplies provided. Check out the Collapsus glass case in the hall for examples of paper nests.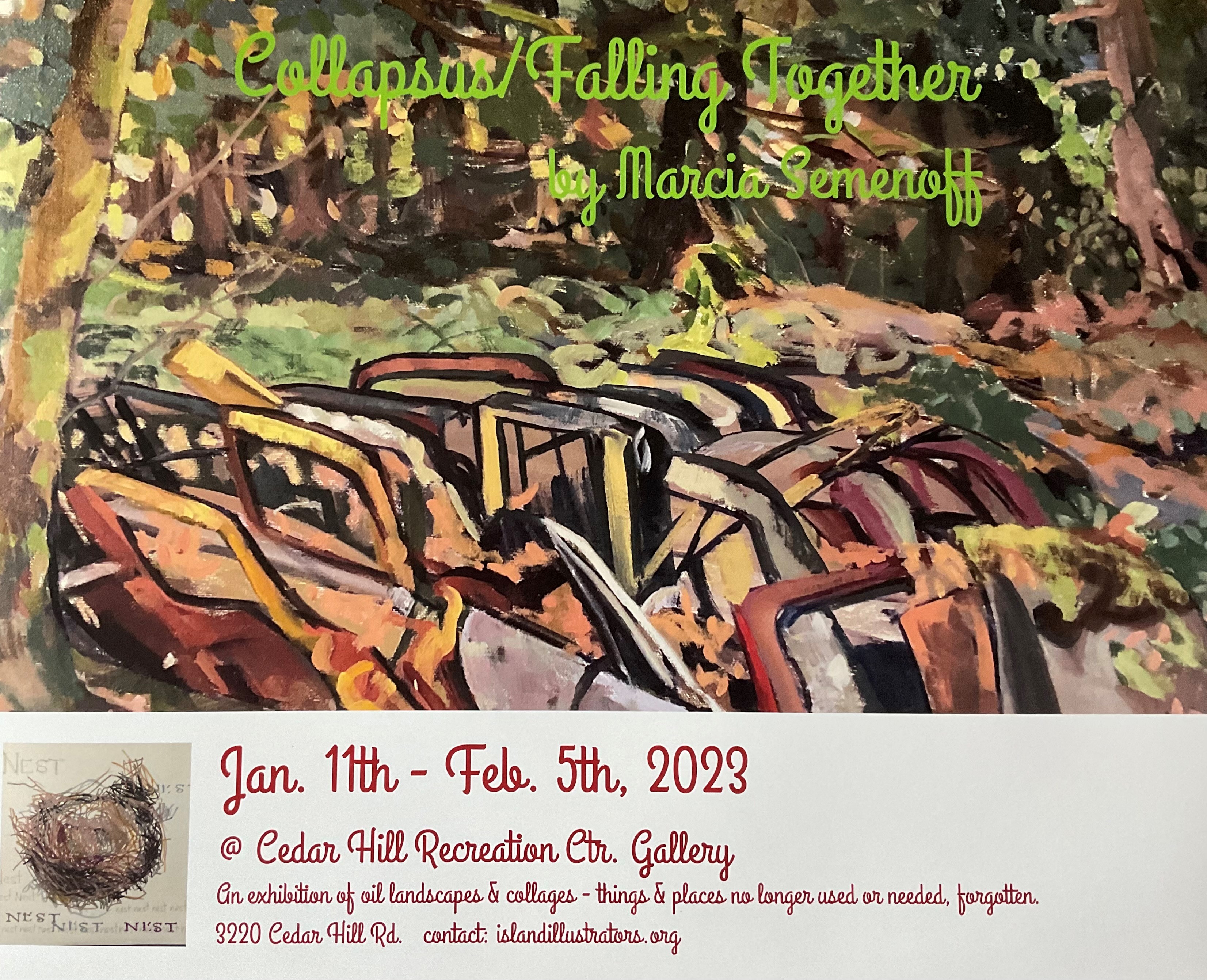 During the pandemic, local artist Marcia Semenoff rediscovered a love of plein air painting. Working in oil and collage, Marcia found herself drawn to "Things lost. Things forgotten." (Neil Gaiman). As the world drastically changed over the last 2 years, so, too, did Victoria, as every corner of the city seemed to be under development. Finding abandoned buildings, lots, and quiet corners in and around Victoria became Marcia's focus.
"I've forgotten about these things… but here they are again, and when I see them I remember them, I know them. I greet them as if they are home." (Margaret Atwood).
Marcia painted the crumbling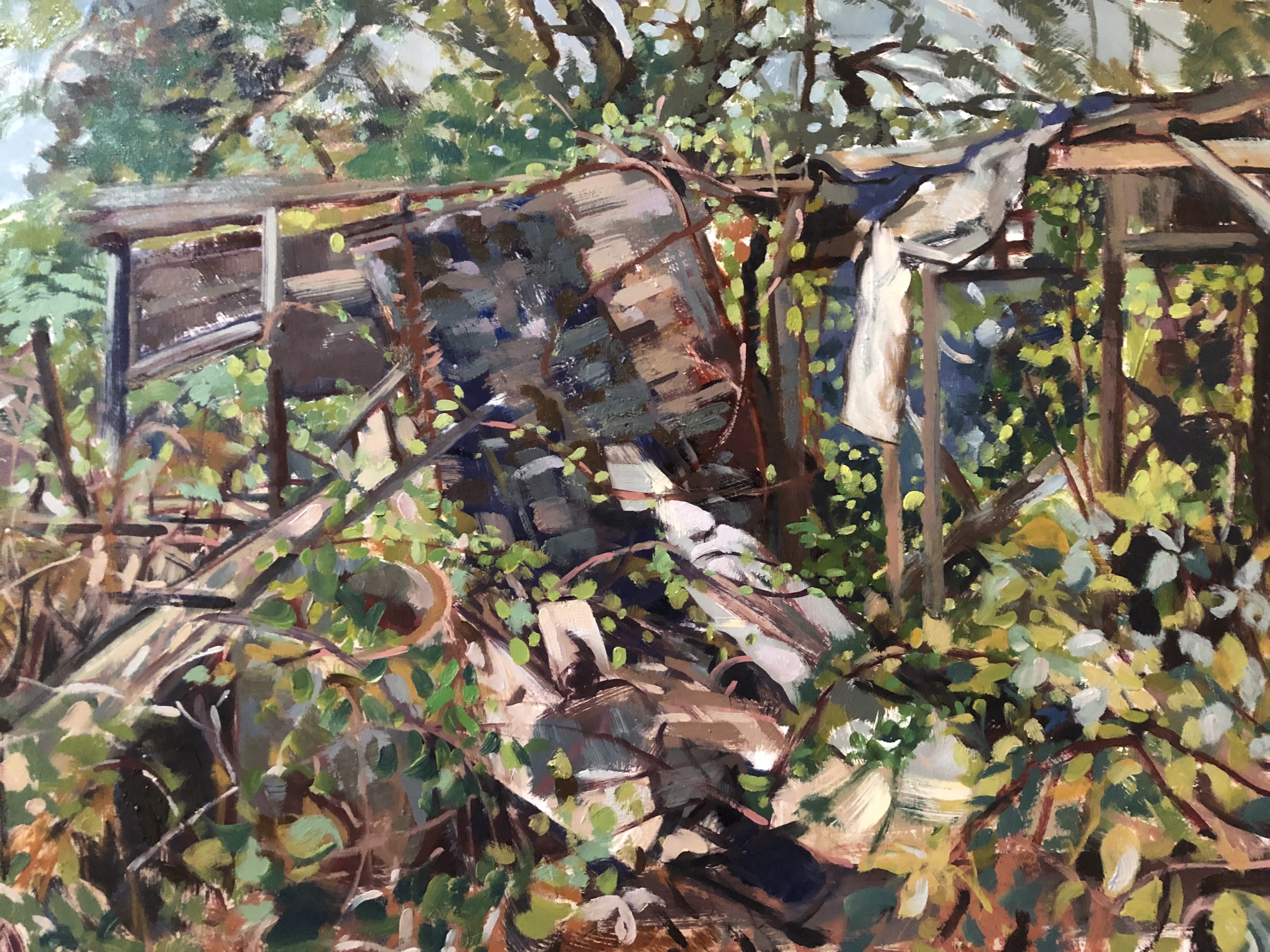 structures: beams falling together; the decay; the return to the earth;trying to make sense of the changing world. "The process of transformation consists almost entirely of decay."
(Pat Barker). As the wider world changed, and the familiar neighbourhoods metamorphosed, Marcia also tried to come to grips with an empty nest at home. In her paintings and collages, you can see the loss of something once valued, and the hope and vigour of something new – much like our changing lives during the pandemic. As an artist, Marcia found a way to keep working, keep going forward. "…everything before you is obsolete, and everything after you bears your mark." (Dave Chappelle).
Marcia has a large number of oil paintings on this theme, some collages, and a large study specifically on empty nests. Reclaimed wood and metal and vintage papers are used in the collages. She also envisions some recycled and reclaimed materials remade into a sculpture, and quotes, such as the ones in this application, lettered on old boards.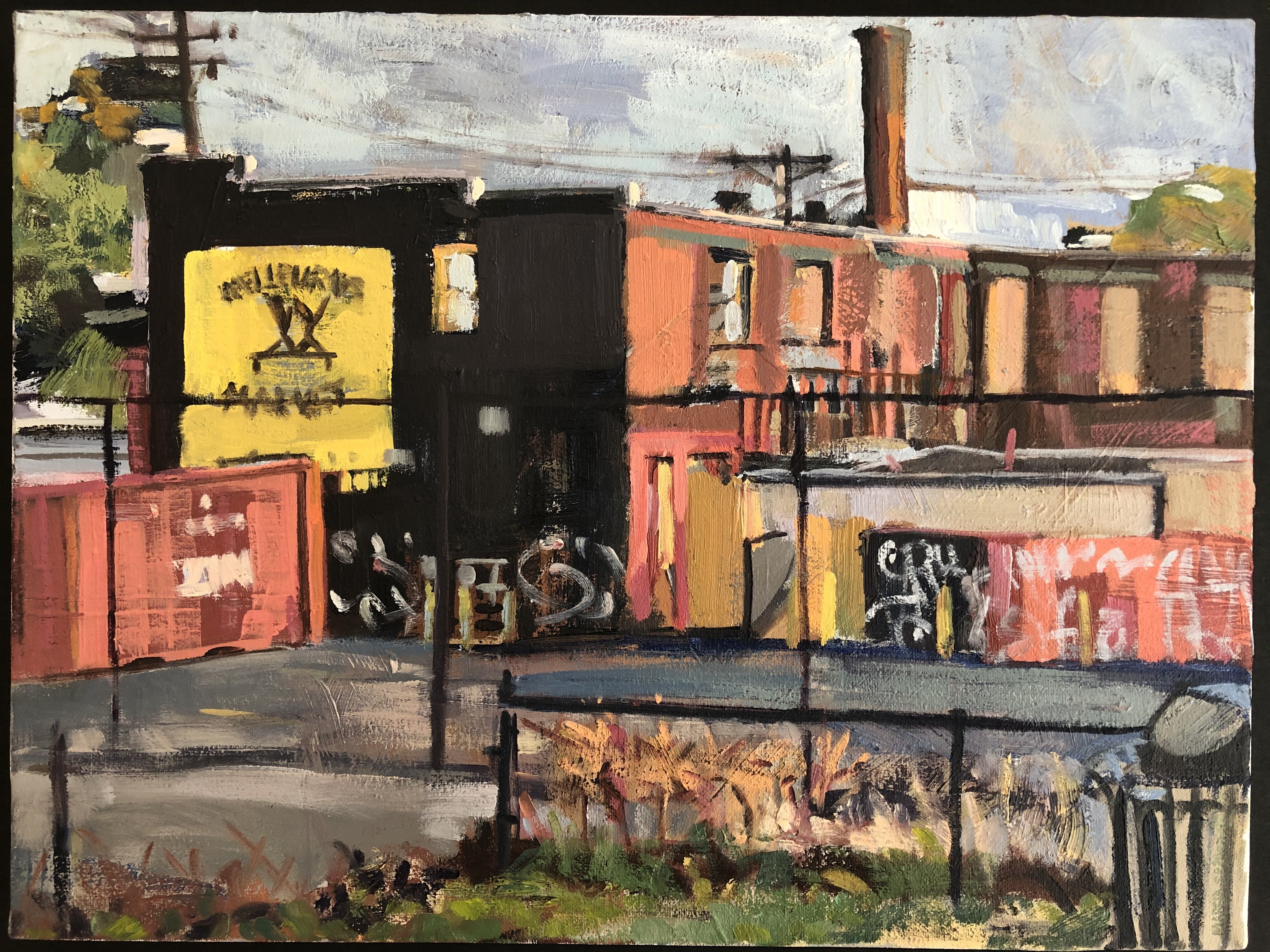 During the exhibit, she
could also facilitate a workshop wherein the
public could work with recycled materials."Recall
all the dreams that you
once used to know, the things you've forgotten." (Van Morrison)"… the faculty of changing at any moment, of turning back, of facing successively the metamorphoses of life." (Remy de Gourmont).
Marcia Semenoff
I was born in Victoria, knowing that I wanted to be an artist. My earliest art experiments involved layering crayon colours to see what other colours I could make. How marvellous, I thought, was the line that defined Snoopy on his doghouse. I drew things that were around me, the room, my sister, and copied magazine pictures.
At art college, paint held my interest more than line and drawing. But I needed to get out of the classroom. Following the lead of the Impressionists, I took my paints outside. Tentatively at first, I painted watercolour landscapes from my car. And I devised a method of collaging scenes by painting different colour swatches, and then tearing teeny tiny pieces in the shapes of rooftops or trees.
Needing to be bolder and bigger, I got out of the car and found a way to make my oil paints portable. For 20 years, I could be found at the side of the road behind my easel, working on impressionistic plein air landscapes. Fran Willis Gallery carried my work, as did the AGGV Art Rental and Sales. And I participated in many Island Illustrators Society, and Federation of Canadian Artists, shows.
Next, I supervised my young son's creative output, and the oil paints were relegated to the closet. But I had a need to make things. Collages starting piling up, as I got an idea, or needed a piece for a show. I really liked the ability to work on a collage at the kitchen table, an hour at a time. Looking through magazines became an intuitive hunt for just the right colour or shape that I needed. Words started to appear in my pieces, and stayed as mini poems. I cut, tore, layered, and marvelled at how just the right word would appear.
Fewer obligations during Covid gave me the time to head back outside with my oil paints, and an artist friend. We have spent the last 2 years at the side of road, in forests and empty lots, painting the disappearing quiet corners of Victoria. I rediscovered my love of plein air oil painting, but give me a picture book, and I just might tear a page out of it for a collage.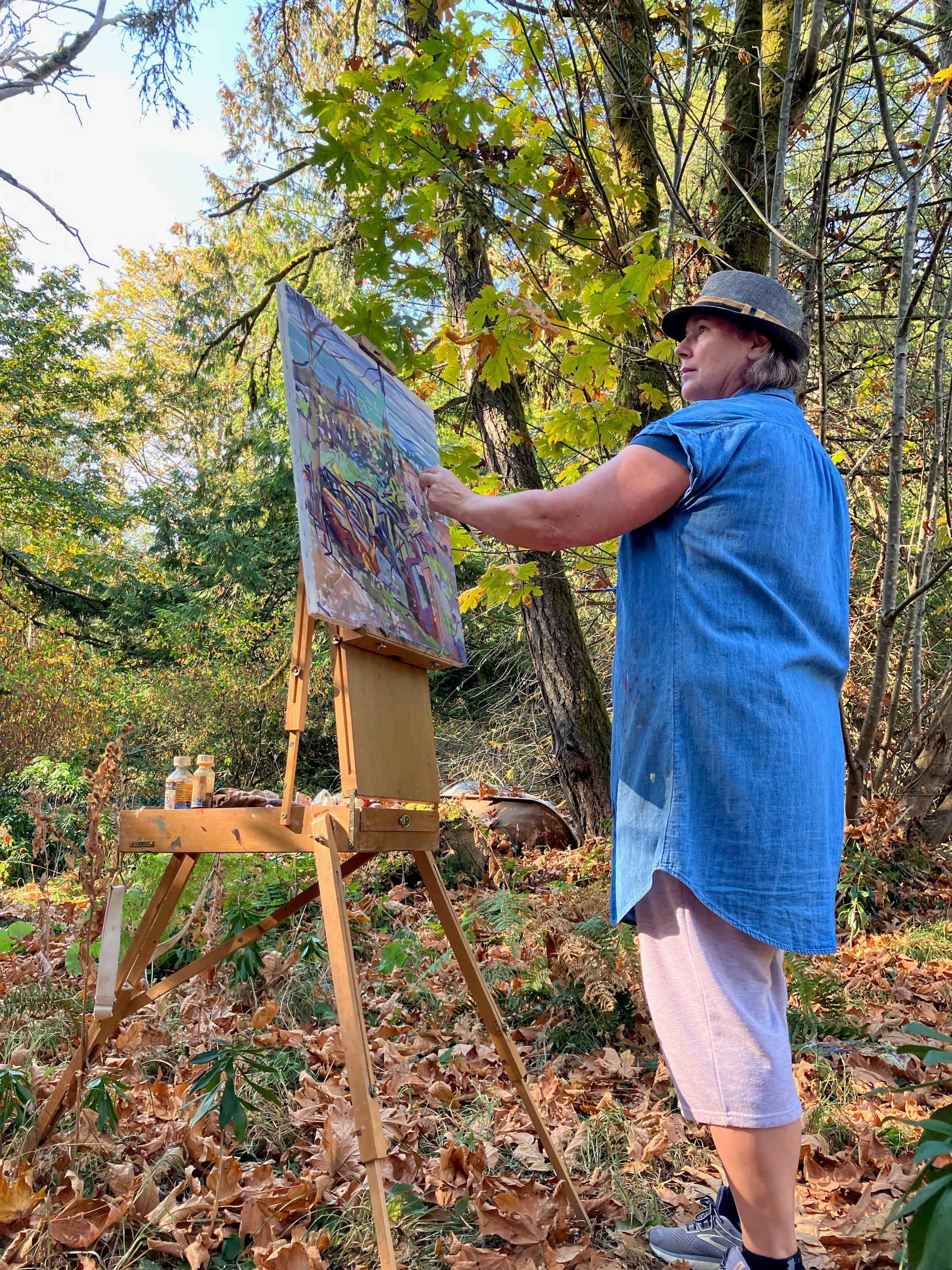 Website
Email: limekilncove@hotmail.com
Accessibility: Accessible washrooms, Wheelchair access, Designated handyDART loading zone and disabled parking stalls.
For inquiries related to exhibitions, please contact Brenda Weatherston at brenda.weatherston@saanich.ca 250 475-5557.