Tiare Buoys
A resident of Saanich's Tillicum neighbourhood, Tiare Buoys is a local underwater photographer and creates artwork from marine debris.
Marine debris from the fishing industry is a major contributor to ocean pollution. She recycles these materials and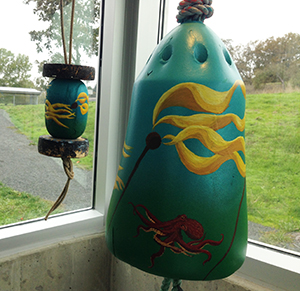 transforms them into art, painted with kelp forests and creatures found within a healthy marine ecosystem.
It is her way of making a tangible difference to the health of our blue planet. Each piece comes with the story of where it was found, who found it, what it might have been used for and why fishermen use each piece of gear.
"I don't just want to recycle marine debris into art work, I also want to make people think about where their garbage goes when it makes its way into the ocean. I love telling stories of the fisheries on our coast and how our local fishermen harvest sustainable food for us all. I can't paint beautiful kelp forests on plastic bags, straws or bottles, and so I mainly use lost fishing buoys but I want people to think about where the single use plastic items they consume each day end up.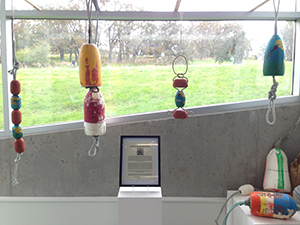 10% of the proceeds from sales of these recycled floats is donated to the Ucluelet Aquarium's Marine Debris Initiative to help research micro plastics and the impact of oceanic plastics.