Petite and Precious, An Exhibition of Paintings by
Margaret Hantiuk and Lisa Jackson
Margaret Hantiuk and Lisa Jackson are Victoria artists living and working on the unceded territory of the Coast Salish people. They met a few years ago while taking a painting course at the Vancouver Island School of Art and have been fans of eachothers' work ever since. They have been looking for some time for the opportunity to hold a joint exhibition. Both artists take their inspiration from a life well lived and create a wide range of work which includes landscape, still life and abstraction. Choice of materials has few limits as well. These artists work in oil, acrylic, watercolour, charcoal, collage and other media.
Margaret Hantiuk works with oil paint on canvas, mixed media on paper and in the summers paints in watercolour en plein air. Her inspiration comes from various sources, the natural world around her, contemporary culture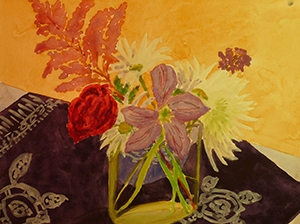 and the legacy and history of the painting and drawing that has come before. For Margaret, the creative process is a magical combination of two states, there and here, and often the painting will take on a life of its own through that process. A feeling of 'being there' comes through the handling of the paint and a feeling of 'being here' comes from the consideration of the formal concerns of picture making.
Lisa works mainly on paper or wood panels - found plywood when available. She uses acrylic paint, collage, fabric, drawing tools, stencils. By leaving traces of what has gone before,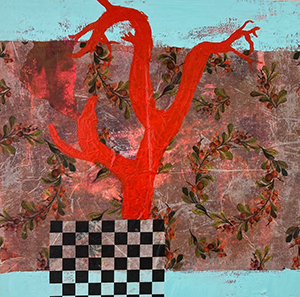 the work explores the relationship between
the past and the present as well as the artist's relationship to them. Lisa is inspired by photographs, literature, pop culture, plants, patterns, the life cycle. Her work is primarily abstract or partially so. Abstraction offers a broad aspect but she often experiments with the combination of abstraction and representation. Curiosity fuels her experimentation with different materials and surfaces. It's all an experiment.
Artists in attendance: Sat, May 14th from 2 to 4 p.m.
Lisa Jackson website
Instagram
Margaret Hantiuk website
Cedar Hill Facility Hours
For inquiries related to exhibitions, please email Brenda Weatherston or call 250 475-5557.