The Accessibility Plan is a roadmap that reflects our support for accessibility, diversity equity and inclusion.
Our goal is to go beyond just meeting compliance standards. This Plan reflects our collective commitment to creating an accessible, inclusive and welcoming environment where every individual can fully participate. We encourage each of you to join us on this journey as we continue to build a strong community where everyone belongs.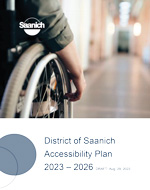 Download the Draft Accessibility Plan.
The District of Saanich recognizes this is an emerging field with diverging perspectives. As such we have aligned our language with the Accessible BC Act, the Premier Letter, the United Nations Inclusive Language Guidelines and with information released by the Accessibility Directorate.
About the Accessibility Plan
The District of Saanich's Accessibility Plan outlines how the district will continue its efforts to improve accessibility awareness and the accessibility of our facilities, programs, services, communications and employment opportunities..
The plan builds on our current accessibility achievements to date and has been created to meet the legislated requirements of the Accessible B.C. Act that came into effect in June 2021. This first draft of the plan has been created based on consultation from the District of Saanich Accessibility, Diversity, Equity & Inclusion Committee and members of various departments within the District of Saanich.