Greater Victoria, BC – Following up on a successful inaugural contest, the One Planet Living Student Challenge is back and once again encouraging Greater Victoria students to share their ideas about how we can all bring sustainable One Planet Living ideas into our communities and personal lives.
The One Planet Student Challenge is being led by the not-for-profit 'think and do tank', OneEarth Living, in partnership with the City of Victoria, the Capital Regional District (CRD), and District of Saanich.
The One Planet Living Student Challenge is welcoming all grade 6-12 students in Greater Victoria to enter video and illustration submissions. In their submissions, students will share their ideas about:
What they are already doing in their personal lives to advance sustainable ways of living – for example, they could create an instructional video of an item (e.g., clothing/bike/recycled wallet) that they have repaired or repurposed to reduce waste.
Steps we can all take to make our communities more sustainable – for example, through a video, artwork or map showing how we can make it easier to travel around by bike or foot in our neighbourhoods.
Middle school students are invited to submit illustrations and secondary school students are invited to submit videos or illustrations. English or French are both welcome! Winners will receive cash prizes and participate in a June celebration event. They will also be showcased on the One Planet BC website –www.oneplanetbc.com.
Student submissions will be accepted until April 28, 2023.
Winners will receive cash prizes and submissions will be judged on creativity, engagement, illumination and alignment with One Planet Living.
For full contest details and to and to see highlights from last year's challenge visit: www.oneplanetbc.com/one-planet-student-challenge/
- 30 -
For more information or to schedule interviews, contact:
One Earth (One Planet Saanich Project Lead)
Cora Hallsworth, Senior Associate, One Earth, 250-580-7423, cora-h@live.com
Background:
What is One Planet Living?
We only have one Planet Earth, but globally, we humans are living as if we have several planets worth of resources. We know that a lot needs to change for us to live sustainably within the limits of our beautiful planet… but we also know that One Planet Living can be better living. Living more sustainably will help us make sure that everyone has the chance to live happy, healthy lives, everywhere, and our beautiful planet will continue to thrive.
One Planet Living sets out to make this transition. It provides a vision and guiding principles to help us work together to achieve a sustainable future.
The contest is structured around the One Planet Living Framework– developed by Bioregional UK (https://www.bioregional.com/one-planet-living ). This includes the ten One Planet Living Principles combined with understanding of our local Ecological Footprint and Carbon Footprint (see below) as a guide to make our actions move us all in the right direction.
The Ten One Planet Living Principles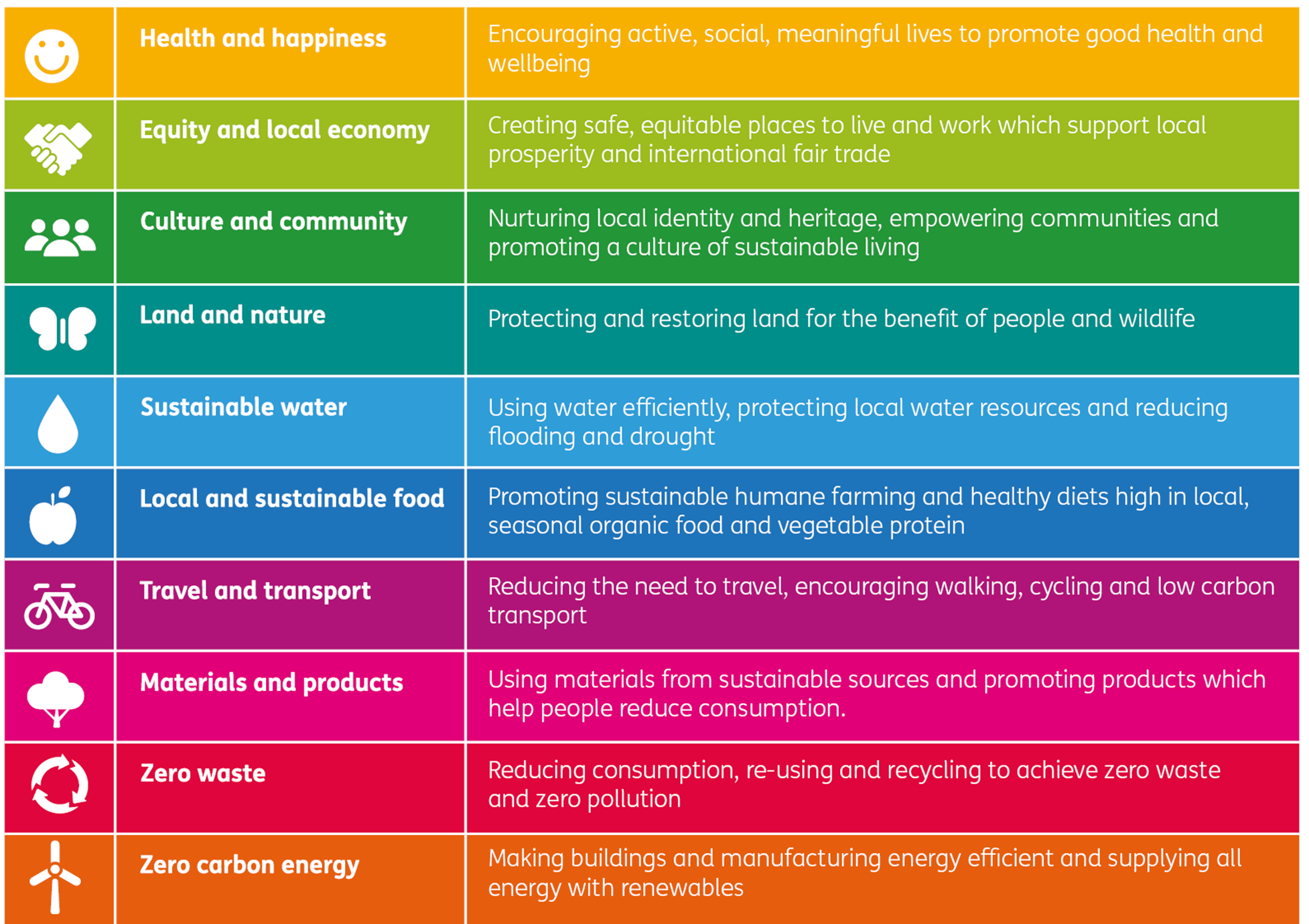 The Carbon Footprint
Climate change is one of the biggest challenges we face as a global community. We need to understand the carbon footprint of our community and of our own personal lives so that we can take targeted action to reduce our impacts. The carbon footprint is a measure of how much emissions of greenhouse gases (GHG) a person or a community is responsible for. These are the emissions that are contributing to climate change – that are created, for example: when we use fossil fuels to heat our homes and power our vehicles; use energy and resource intensive farming practices; and throw waste in landfills.
The Ecological Footprint
Did you know that the ecological footprint idea was developed right here in BC? In addition to considering GHG emissions, the ecological footprint looks at how much resources we are drawing down from the planet.
Using ecological footprinting, scientists have figured out how much resources we are currently using compared to how much the planet can continue to produce for us. It helps us figure out how close, or how far we are from one planet living.
How it works: we can use the ecological footprint to figure out how much land and water area a person or a community is depending on to produce all the resources they use in their day to day lives, and importantly to absorb the greenhouse gas emissions that we are creating (we need enough plant-life like trees to absorb the greenhouse gas emissions we generate). We know how much productive area there is on Earth, and we can divide that by the number of people on earth to figure out what our fair share is. But remember we need to also set some aside for nature, including other animals.