News release
For immediate release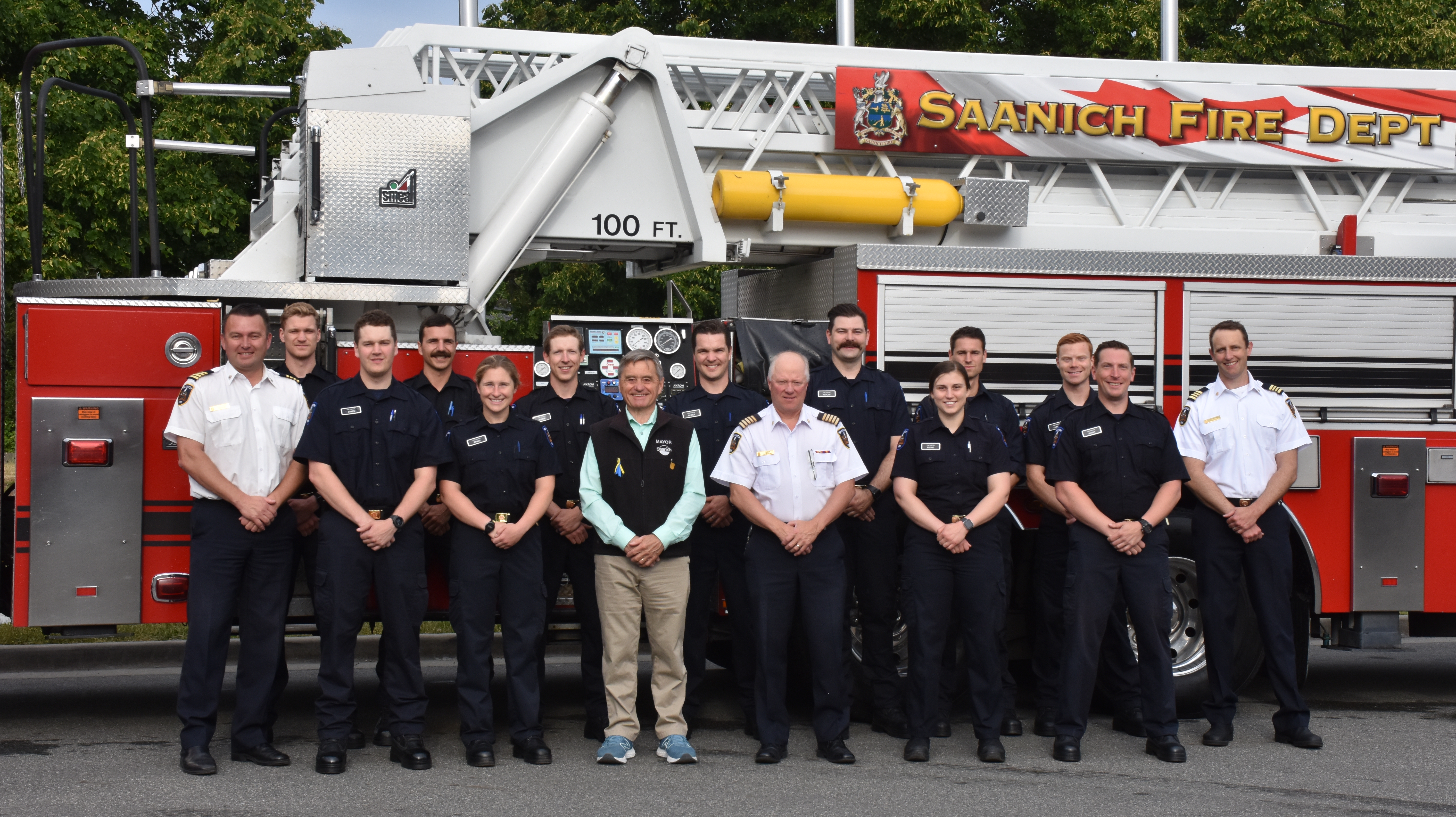 Saanich welcomes new fire fighters to support fire department needs
Saanich, BC – Fire Department staffing levels are increasing with the hire of ten new fire fighters this year as part of a 10-year funding strategy to ensure fire operations, staffing and equipment keep pace with population growth.
The Fire Services Review completed in 2019 recommends increasing on-duty staffing levels to meet response time standards and address Saanich's growth in population and density, which has resulted in a considerable increase in emergency incident responses and service delivery demands.
"We've seen a 35 per cent increase in incidents over the last ten years, and we project that total incident responses will increase by a further 25 per cent by 2027," said Mayor Fred Haynes. "The 10-year fire services funding strategy approved by Council in October 2021 balances the future needs of the District, emergency response standards and keeping taxes steady while maintaining required levels of fire services as we continue to grow."
This year's new hires will increase Station 3 on-duty staffing by two fire fighters, growing from four to six. The staff increase allows for a full-time medic unit to operate in the Station 3 response area. The Fire Services Review identified Station 3 met the NFPA eight-minute response time standard only 49.6 per cent of the time, that fire losses are increasing, and the District's most significant dollar loss fires have occurred in the Station 3 response area.
Due to the round-the-clock nature of firefighting, five hires are needed to fill one fire fighter position 24/7. In 2026, Station 3 staffing will increase by two more fire fighters –from six to eight – and will provide a fully staffed Engine and Ladder in the Station 3 response area.
"I am thankful to Council for their continued support and investment in the District's fire service which allows current service delivery standards to be maintained while ensuring the sustainability for the community over the longer term," said Fire Chief Michael Burgess. "It is clear that both Council and the community support us, and we will continue to do everything we can to serve Saanich and keep that trust."
Quick facts
In November 2019, Council moved to receive the 2019 Fire Services Review – 2020 Master Fire Plan completed by Dave Mitchell & Associates Fire Services Consultants Ltd. as a future reference and planning tool for the delivery of fire services within the District of Saanich.
The Fire Services Review provided a comprehensive assessment of the Saanich Fire Department, including future operational and staffing requirements and related recommendations to ensure continued sustainability and success.
In October 2021, Council confirmed their commitment to implementing the staffing recommendations from the Fire Services Review and approved a 10-year funding strategy for inclusion in the Five Year Financial Plan commencing with the 2022-2026 Financial Plan
The 10-year funding strategy, approved by Council in October 2021, seeks to minimize large swings in new taxation funding from year to year. Establishing a longer term process that has a smaller and more consistent impact over the term, recognizes the impact on taxpayers. The taxation impacts range from an estimated low of 0.12 per cent to a high of 0.61 per cent.


-30-
Media contact:
Michael Burgess, Fire Chief
Saanich Fire Department
250-475-5503