News release
For immediate release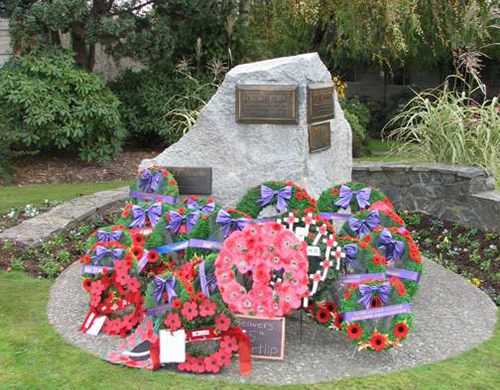 Saanich, BC – Join the District of Saanich at the Cenotaph at Saanich Municipal Hall (770 Vernon Avenue) on Friday, November 11, 2022, from 10:45 a.m. to 11:45 a.m. as we pause in a silent moment of remembrance for the men and women who have served, and continue to serve, our country during times of war, conflict and peace.
"I invite residents to attend our ceremony and take time to remember and recognize those who lost their lives for our freedom," said Mayor-Elect Dean Murdock
Ceremony
For the first time in two years, the ceremony is open to the public. The service will be led by Lieutenant Commander (ret'd) RI Cudmore, CD.
Following a military parade, active and retired service members, police, fire, and local community groups will lay wreaths at the Cenotaph. Groups that would like to lay a wreath will have a designated time following the ceremony. If your organization would like to lay a wreath, please contact the Event Coordinator, Sarah Faria.
Event details
The hall is on several bus routes, on both the Galloping Goose and Lochside trails and has accessible spaces reserved in the upper parking lot. Seating and parking will be limited. There will not be a reception following the ceremony, and Municipal Hall will be closed to the public.
The event is rain or shine and there will not be a livestream of the event this year, as the ceremony is open to the public.
- 30 -
Media contact:
Sarah Faria
Programmer II – Events, Volunteers & Film
250-475-5558
Sarah.Faria@saanich.ca