News release
For immediate release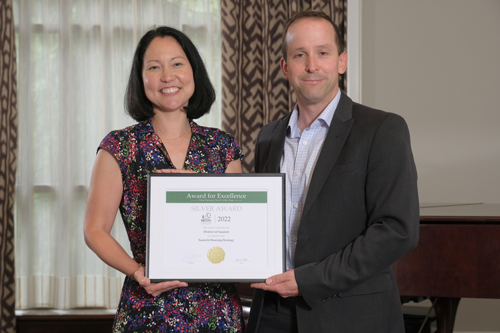 Saanich Housing Strategy wins Silver award for excellence in planning
Saanich, BC – The District of Saanich has received recognition for its Housing Strategy from the Planning Institute of British Columbia (PIBC). The District received the 2022 PIBC Silver award in the Excellence in Policy Planning - City & Urban Areas category during the PIBC Awards Ceremony on July 6, 2022.
PIBC's awards honour the best in professional planning work. The Excellence in Policy Planning category recognizes the development of leading-edge and visionary planning policy that seeks to enhance communities' social, economic, environmental and/or cultural wellbeing.
"On behalf of our residents and staff, it is an honour to receive the 2022 PIBC Silver award in the category of Excellence in Policy Planning - City & Urban Areas for the District of Saanich's Housing Strategy," said Mayor Fred Haynes. "This award is a testament to the staff dedication and extensive and thoughtful public input that has culminated in a practical roadmap for action to achieve a greater housing supply, affordability and diversity in our community while we also protect our Urban Containment Boundary."
The Housing Strategy, completed in 2021, is a 10-year planning framework that provides a clear direction on how Saanich can accommodate a broader range of community housing needs. The strategy builds on existing actions, supports partnerships, and focuses efforts on areas within municipal influence.
A Task Force provided the foundational content for the strategy, recommending supporting principles, key strategies, and prioritized actions. Input from stakeholders, residents, and experts was also key to shaping the strategy. Through an expedited process, the strategy determines the most effective way forward to address complex housing issues vital to overall community health and well-being.
Actions in the strategy focus on urban areas near centers, villages and corridors, supporting broader Saanich goals of addressing climate change, preserving the natural environment, achieving transit-oriented development, and building walkable and healthy communities.
For more information on the District's award and the other recipients of PIBC's Awards for Excellence in Planning, please visit Awards for Excellence in Planning | Planning Institute of British Columbia (pibc.bc.ca).
-30-
Media contact:
Megan Catalano
Communications Manager
megan.catalano@saanich.ca
250-475-7639