Short section of Quadra Street closed for 4 weeks beginning July 12, 2021
Saanich, BC – The District of Saanich is undertaking road and storm drain improvements on Quadra Street. This drainage work is scheduled to start on July 12 and continue for approximately four weeks. Due to the size and location of the drainage pipe being replaced, Quadra Street will be completely closed to through traffic, pedestrians and cyclists between Greenridge Crescent and Reynolds Road for the entirety of the installation.
The road works, including paving and sidewalk improvements on Quadra Street between Rock Street and Mckenzie Avenue has started and will continue over the next 2 months.
Why are we doing this?
Quadra Street has been identified for re-paving due to the poor condition of its asphalt surface. The storm drain culvert is old, showing signs of wear and has reached the end of its useful life. By replacing the drain now we avoid excavating a newly repaved road.
Area map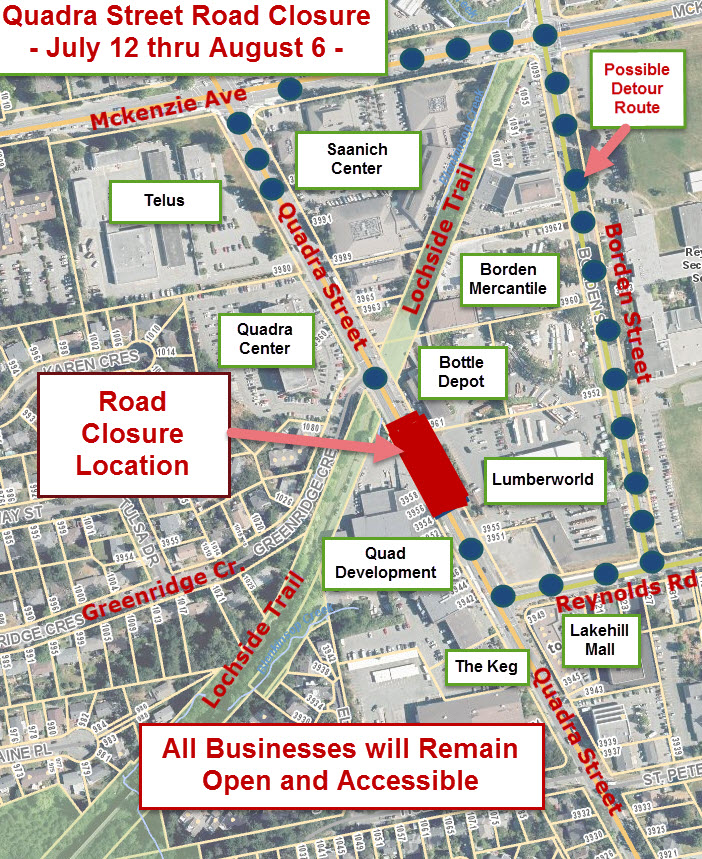 Detour Information
Vehicles and BC Transit buses will be detoured around the project and will use Mckenzie Avenue, Borden Street and Reynolds Road. Go to the BC Transit web site for more Information.
Cyclists and pedestrians can detour around the project using the Lochside Trail, Borden Street and Reynolds Road. Signage will be provided. The Lochside Trail will remain open throughout the project.
All businesses in the work area will remain open and access will be provided for staff, customers and deliveries.
Project Timeline
The full road closure on Quadra Street between Reynolds Road and Greenridge Crescent will be in effect 24 hours a day from July 12 to August 6.
Roadworks for the final surface overlay and sidewalk replacement will be ongoing through August.
Learn more
Visit saanich.ca/projects to view the details and additional information about our scheduled projects.
Media contacts:
Saanich Communications
media@saanich.ca
250-475-7638