March is Women's History Month so we wanted to take a look back at some of the women who have worked at Saanich over the past 100 years! Women have been instrumental in the growth of Saanich as a municipality. While we are focusing on the six women below, there are hundreds more who deserve our admiration and thanks for all that they have done to make Saanich the place that it is today! Thank you to Saanich Archives for sharing this information, you can view these and much more on their webpages.
Helen Elliot (born 1897) moved to Victoria in 1911 and began working for the District of Saanich in 1916 as a stenographer. She worked for Saanich for 39 years, retiring as Chief Accountant and Assistant Comptroller in the 1950s.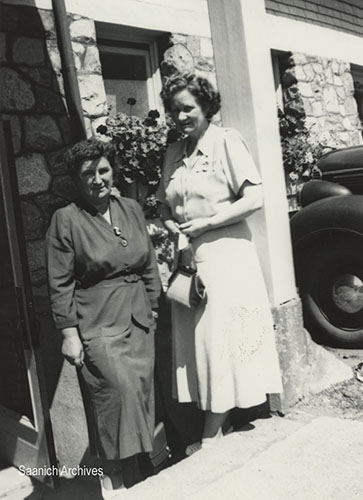 Photo: Annie Robinson and Helen Elliot at the Saanich Municipal Hall on West Saanich Road, 1950 (1981-004-039)
Annie Robinson (nee Bull, 1901-1990) grew up in Quadra on her family's dairy farm. She began working for Saanich in 1917 as a "scribe" for the Tax Department at a salary of $65 per month. After 9 years she left to get married. In 1949, at the request of the Assessor Stan Green, she returned to work in the Waterworks and Accounting Departents. She was employed by Saanich for over 21 years.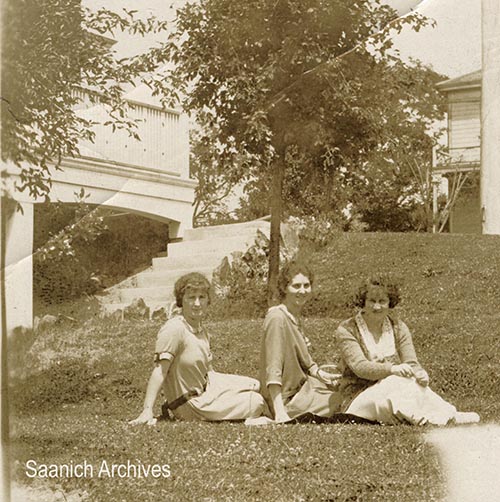 Photo: Saanich employees Annie Bull, Kathleen Butt, and Helen Elliot, outside Municipal Hall on West Saanich Road, ca. 1920 (1981-026-006)
Kathleen Warren (nee Butt, 1889-1974) was born in England and came to Canada in 1903. She worked for the District of Saanich for over 25 years and was for many years the head of the Tax Department. When Central Saanich was formed in 1951, Kathleen went to work as Clerk and Treasurer for Central Saanich, where her and her family had been living for some time. Her husband, Percy F. Warren served as a counselor for Central Saanich as well as Police Commissioner.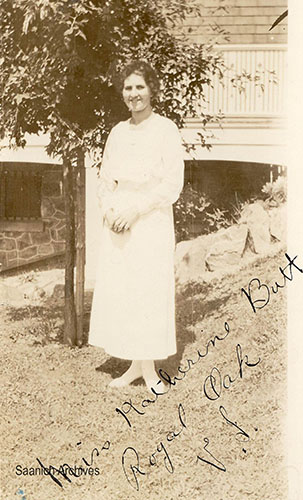 Photo: Kathleen Butt, Tax Department Clerk, 1917 (1981-026-002)
Myra Erickson (nee Hodgson, 1919-2013) was born in Victoria and worked for many years for the District of Saanich and for the School Board. During WWII, she served in the Canadian Air Force.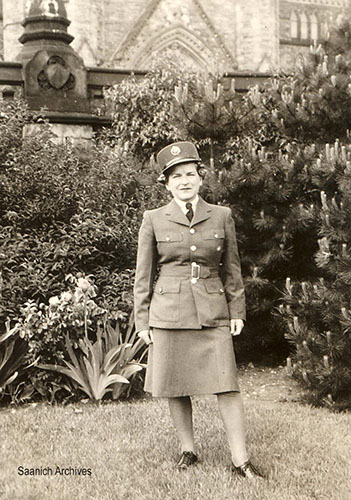 Photo: Saanich employee Myra Hodgson in WWII uniform, ca. 1942 (Saanich Archives, 1981-020-009a)
Grace Shaw (born 1913) became the first woman elected to Saanich Council in 1951. She served a two year term but did not to run for reelection in 1953. In 1952, Councilor Shaw voted in favour of allowing married women to be hired and promoted by Saanich. She also voted in favour of amalgamating essential services in Greater Victoria. Before WWII, Grace was the first president of the Young Women's Canadian Club of Toronto. By 1960, Grace and her husband had returned to Toronto.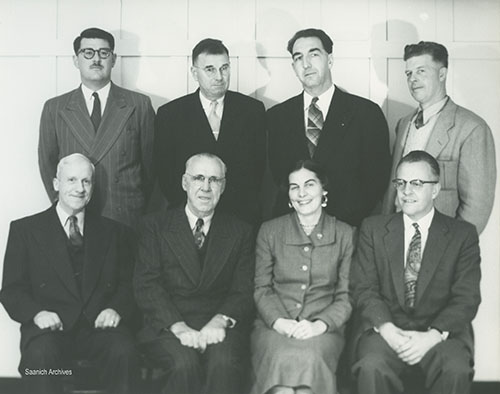 Photo: Saanich Council, 1952 (Saanich Archives, 2012-015-023)
Jo-Ann Morrison was a long-time employee at the District of Saanich and served as the Deputy Municipal Clerk. She was responsible for establishing an Archives for the municipality in 1978 and served as the first municipal archivist.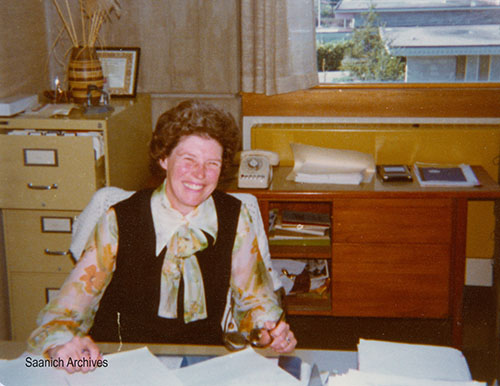 Photo: Saanich Deputy Municipal Clerk Jo-Anne Morrison at Saanich Municipal Hall on Vernon Avenue, 1976 (Saanich Archives, 1980-003-006)
These women of the past are joined by the many strong, creative, compassionate and professional women who make up the current Saanich staff. Thank you to all of you for all that you do for the District and the community!