Prospect Lake Road to get new roadside barrier
Saanich, BC – Users of Prospect Lake Road will get a safety boost as the District prepares to install a roadside barrier along sections of the road.
A 70-meter stretch of road fronting Calvert Park is set to be re-laned to a single travel lane with advance yield. The result will be similar to a one-lane bridge. As part of this work, a roadside barrier will be installed and trialed as a pilot project. This safety improvement was recommended in the recently completed Prospect Lake Road Safety Audit to reduce the risk of off-road accidents. The single travel lane with advance yield also supports traffic calming which has been a requested improvement by the community.
The planned work is anticipated to start in early August and is a continuation of the road maintenance construction project that was completed in summer 2019.
Construction Impacts
During the construction period, you can expect crew and equipment to be on site between the hours of 9 a.m. and 3:30 p.m. Between these hours, single alternating traffic may be in effect.
How will this project impact traffic?
A traffic barrier is being installed to improve safety for roadway users and pedestrians. Creating a single lane not only makes the road safer, but it also strikes a balances between environmental concerns, tree preservation, traffic calming and cost effectiveness.
Project location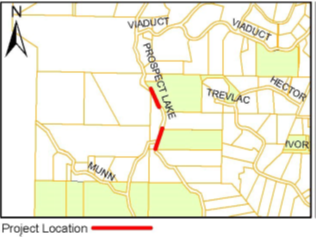 Learn more
Visit saanich.ca/projects to view the details and additional information about our scheduled projects.