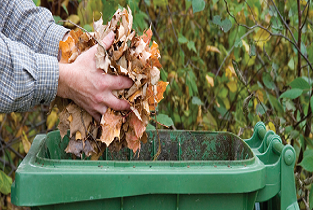 Each Fall we offer two curbside leaf collection passes along residential streets. Leaf collection dates are included on your garbage and organics collection schedule. Check October/November for your first leaf collection pass.
Guidelines
Leaf collection only.
Leaves must be in rows or piles no more than 1 metre away from the road.
No limit to number of piles or rows.
Leaves to be clear of catch basins, sidewalks, bike lanes and roadways.
Leaves are not collected from inside ditches.
Collectors require unobstructed access to leaves.
We don't accept
We don't accept a number of items in our leaf collection program. Please put the following in your organics recycling cart:
Fir/Cedar needles
Grass clippings
Prunings
Garden waste
You can bring large-volume loads to the Saanich Public Works Yard at 1040 McKenzie Ave.
Where your leaves go
We collect and mulch about 2,500 tonnes of leaves for reuse in our parks, allotment gardens and garry oak restoration projects.
We also drop off free leaf mulch for residential use on a first-come, first-served basis at three Saanich parks: